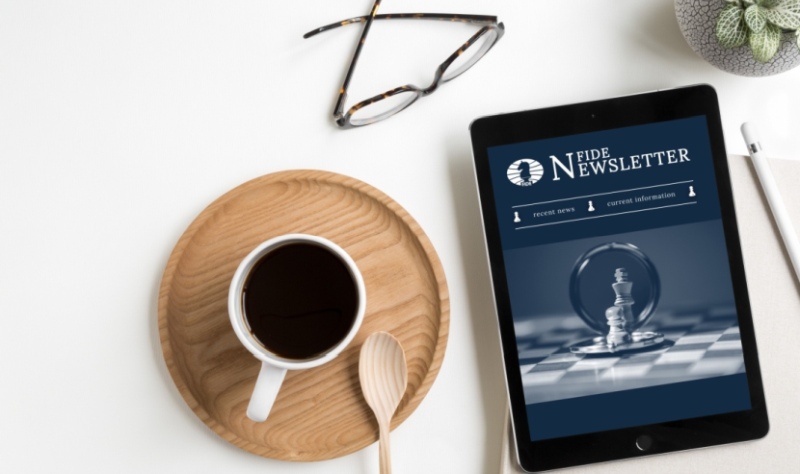 Welcome to FIDE Newsletter. Published bi-weekly, this newsletter aims to provide you with relevant information about happenings within our organization, and the member chess federations. Not only will you find information about current FIDE events, but we will also share with you the main decisions, case studies, and inspiring stories.
If you want to receive this bi-weekly publication directly in your inbox, please subscribe here.
FIDE Newsletter archive:
Online Olympiad advances to the next stage: Division 3
Polish Power
National Championships resume!
"Chess Life" and the new chess boom
A passionate chess coach from Msogwaba, South Africa
New appointments by the Australian Chess Federation
Anniversaries
United Nations: "Chess for recovering better"
International Chess Day
Letter by the IOC President Thomas Bach
Anna Ushenina wins the Women's Speed Chess Championship
Anniversaries
FIDE presents the Online Olympiad 2020
Main decisions of the FIDE Council meeting
Changes in the FIDE Commissions
Do you have any questions about the Laws of chess?
Swiss-Manager manual and online course
Ushenina and Gunina lead the Women's Speed Chess GP
Rising Stars Match
Anniversaries
Chess vs Coronavirus: 1-0, Checkmate!
Women's Speed Chess
Short news from National Federations
Chess and research studies
125 years of Swiss System
Shortlisted books for the Averbakh-Boleslavsky Award
Anniversaries
Checkmate Coronavirus enters its final week
Input request on the Arbiters' Manual
FIDE Trainer and Arbiter's seminars
Chess is back in orbit!
National Championships Records
Anniversaries
Checkmate Coronavirus: week one
Carlsen and Lagno take titles in Steinitz Memorial
FIDE held the first Online Cup for People with Disabilities
First online meeting of the FIDE Council
Continents go online
"We are all children of Informant"
Anniversaries
China wins the FIDE Chess.com Online Nations Cup
Carlsen and Lagno to star in FIDE Steinitz Memorial
Upcoming FIDE Trainer Seminars
Announcing the FIDE Online Cup for Players with Disabilities
Success story: US Chess Women & "Isolated Queens"
Anniversaires
FIDE Chess.com Online Nations Cup
FIDE Seminars
FIDE Candidates' Countries Youth Tournament
The chess community takes a step forward to support charity events
"One Million ChessKids" project launched in the UK.
Leela Zero defeats Stockfish at the TCEC Superfinal
Donald Schultz (1936-2020)
Anniversaries
Stay home, stay safe, stay sharp!
FIDE news and activities
Online events
FIDE distributes €35,000 among chess veterans
Chess in outer space
Happy birthday, Garry Kimovich!
A roundup of the first part of the 2020 Candidates
FIDE canceled events and our swift towards online activities
Online chess activity peaks during the global lockdown
50 years ago, the USSR was battling the rest of the World
FIDE Candidates Tournament opens today in Yekaterinburg
Dzagnidze clinches victory in Lausanne
New FIDE Charter approved
USA (+50) and Russia (+65) win gold at the World Senior Team Championship
Mercedes-Benz is the official auto partner of the Candidates Tournament