The first FIDE World University Online Individual Blitz Championship, the competition that brought together 960 students from 78 countries also served as a qualifying stage for FIDE World University Online Blitz Cup with the four best universities advancing straight into the semifinals.
Both semifinals and the final consisted of four sets and were played on March 27. The tournament regulations stipulate that in case of a tie on match-points, board points did not count so the team had to play a tie-break blitz match.
In the semifinals, the University of Missouri faced off Armenian State University of Physical Culture and Sports University of Texas Rio Grande Valley took on Saint Louis University.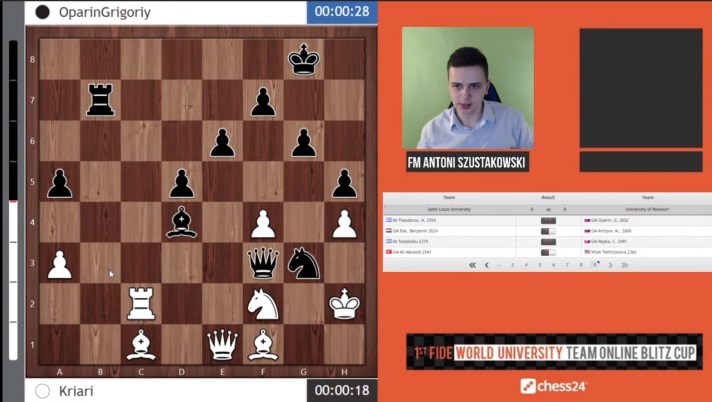 The University of Missouri started with a bang by winning the first set 3:1; however, the Armenian State Institute of Physical Culture and Sport retaliated in the second set 2½:1½. It was a wake-up call for the higher-rated team as the University of Missouri comfortably took third and fourth sets by equal score 3:1.
In the second semifinal, Saint Louis University won two close sets 2½:1½ and took the commanding lead. The top-rated Texas Rio Grande Valley came back in the third set 3:1 but did not manage to pull out so much-needed victory and the fourth set and the team from Saint Louis progressed into the final.
A very tightly-contested final was a battle of two equal teams that exchanged blows in the first two sets and drew two others. It came down to a tiebreaker in which Mikhail Antipov and Christopher Repka tipped the balance in favour of the University of Missouri (2½:1½ ) that clinched the title.

Final standings:
1. University of Missouri
2. Saint Louis University
3. University of Texas Rio Grande Valley
4. Armenian State Institute of Physical Culture and Sport