Similar to the blitz event of the FIDE World University Online Championship, the four best teams qualified for the Team Rapid Cup semifinals after the individual rapid.
Both semifinals and the final were best-of-two-sets matches played on March 28 on chess24 platform. According to the tournament regulations in case of a tie on match-points, board points did not count so the team had to play a tie-break blitz match.
In the semifinals, the University of Missouri was pitted against Shanghai University of Finance and Economics whereas Texas Rio Grande Valley squared off with Saint Louis University again, just like in the Team Blitz Cup.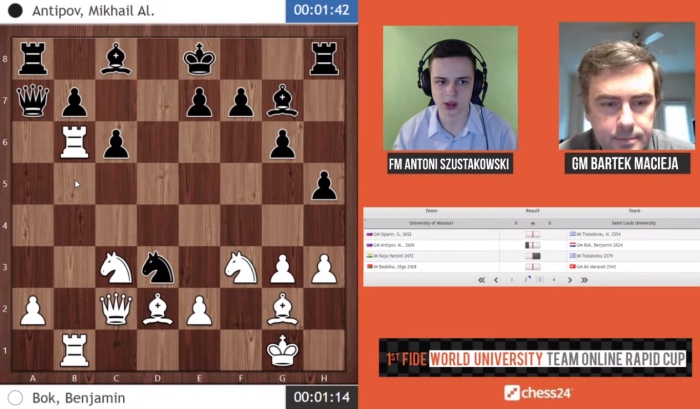 The first semifinal started with a draw in the first set (all four games produced decisive outcomes) but in the second set, the University of Missouri took the situation under control and advanced to the final thanks to the victories by Grigoriy Oparin and Christopher Repka on first and third boards.
In the second semifinal, Saint Louis University pushed hard from the very start, grabbed the first set 3:1, and after drawing the second one 2:2 made it to the final.
The University of Missouri and Saint Louis University met in the final again but this time around the latter took revenge. Again it was a very close battle – the first set was drawn after the teams exchanged blows on all four boards. The fate of the match and the title was decided in the second set on the first board: Nikolas Theodoru toppled the highest-rated player of the event Grigoriy Oparin in a spectacular fashion and tipped the scales for his team.
Nikolas Theodoru – Grigoriy Oparin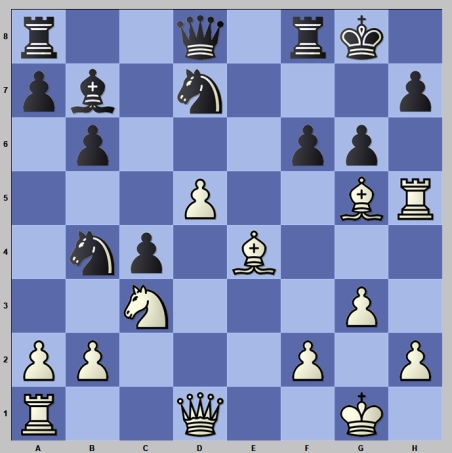 18.Rxh7! fxg5 19.Bxg6 Qf6 20.Rxd7 Qxg6 21.Rxb7 and White converted his extra material 1-0
Final standings:
1. Saint Louis University
2. University of Missouri
3. University of Texas Rio Grande Valley
4. Shanghai University of Finance and Economics