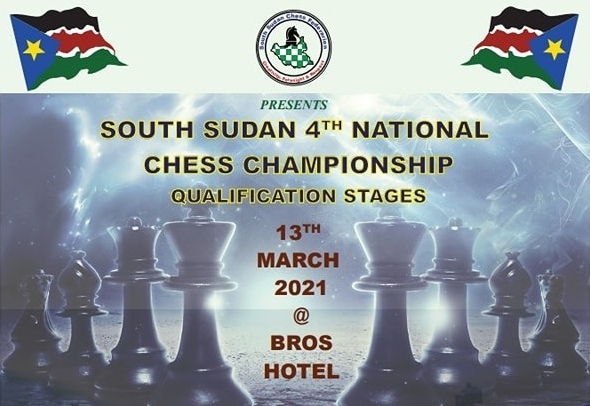 Manyok Chaderek Panchol came out as the winner of the 4th National South Sudan Chess Championship (Qualifying Stage). He scored comfortable 10 points out of 11 gruelling rounds.
John Makuach, Thon Gong, Juach Marol and Peter Manyang all ended up with 8½ points in joint second place.
Manyok Chaderek Panchol went home with SSD 200,000 (USD 1,500).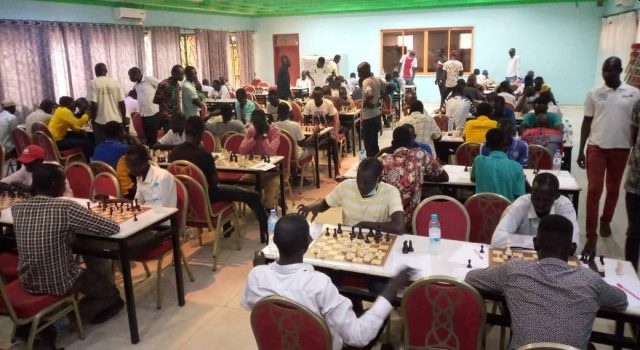 The 11-round Swiss tournament with classical time control attracted over 120 hopefuls who battled daily from 13th to 22nd March 2021. The cash prize fund amounted to SSP 570,000 (approximately USD 4,300). The top twelve players will play in the Final Section, which will take place in June 2021.
Nile Petroleum Corporation, 1People Technologies Ltd, Trinity Holdings and GS Construction were the event sponsors.
Final standings:
1. Manyok Chaderek – 10
2. John Thon Makuach – 8½
3. Gong Thon Gong – 8½
4. Juach Deng Marol – 8½
5. Peter Majur Manyang – 8,5
6. David Maluak Bol – 8
7. Agook Madol Agook – 8
8. Joseph Deng Buol – 8
9. Yuot Mabut Deng Yal – 8
10. Ayuen Kuer Riak – 8
11. Gai Athel Riak – 8
12. Mabior Anyuat Mabior – 7½
Chess facts about South Sudan
The South Sudan Chess Federation was registered in 2014 and joined FIDE in 2016.
Juuk Thiong Juuk is the current President of the South Sudan Chess Federation.
Henry John is South Sudan's highest-rated player at 2245.
South Sudan has just over 370 registered players with FIDE.
The federation has only three ladies players who are registered with FIDE.
South Sudan has participated in two Olympiads, namely the 2016 Baku and the 2018 Batumi editions.
Text and photo: Kenya Chess Masala