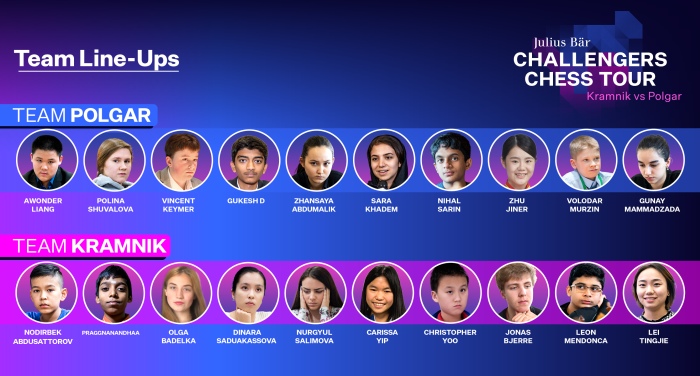 Indian prodigy R Praggnanandhaa took his winning run to an incredible eight in a row today as he emerged the clear leader of the Polgar Challenge online chess event.
The 15-year-old, playing for Team Kramnik, dominated his opening two games against America's top female player Carissa Yip and Jiner Zhu, of China.
Two wins in those games added to Pragg's four back-to-back victories yesterday - and then he benefited from some luck to just storm on from there finishing on 8.5/10.
Incredibly, after being tied 25-25 overnight, Team Kramnik and Team Polgar are still locked on 50-50 - although the top three on the individual leaderboard all represent Team Kramnik.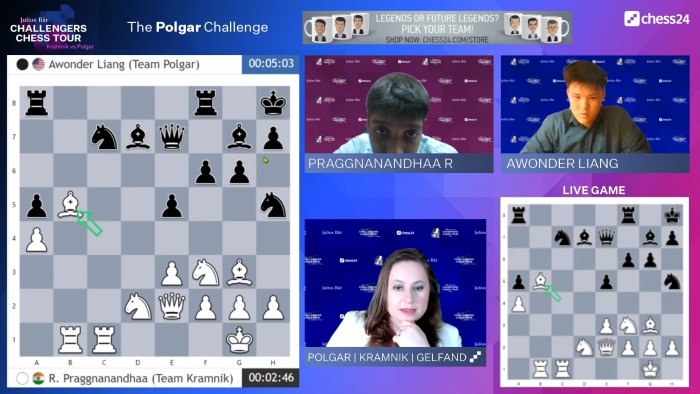 Pragg did not have it all his own way, however. His run was nearly derailed in Round 8 by Bulgaria's Nurgyul Salimova, 17, who missed a chance to win on the spot and then nearly saved a draw against him.
Pragg was too strong and a slip in the endgame from Salimova allowed the teenager from Chennai to force a seventh win. Meanwhile, there was disappointment for Kazakhstan's Dinara Saduakassova who was forced to forfeit all her remaining games after Round 8 because of a bad internet connection.
Saduakassova's departure handed Pragg another win in Round 9 - albeit without playing - to make it eight full points in a row after losing his first game in the tournament.
It also gifted Pragg a rest going into the final round of the day. He ended the day with a draw against US teen Awonder Liang, who was celebrating his 18th birthday.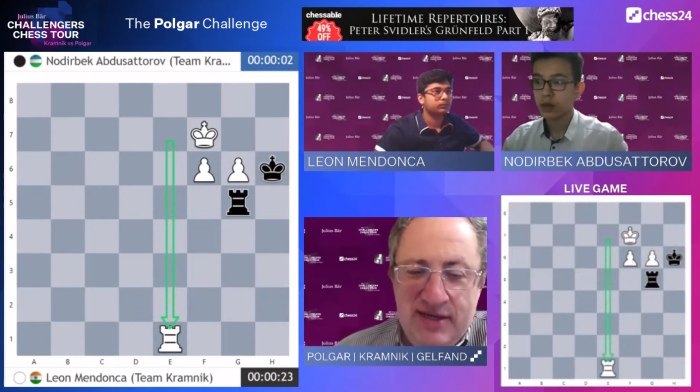 Top seed Nodirbek Abdusattorov, 16, had kept pace until he suffered his first loss in Round 8 against another Indian prospect, Goa's Leon Mendonca.
Both Abdusattorov, from Tashkent, Uzbekistan, and American Christopher Yoo had been level with Pragg overnight but fell back today. The two chasers did however pullback in Round 10 to finish just half a point behind Pragg on 8/10.
Yoo remains unbeaten and faces Pragg in Round 11 tomorrow. A win in that and he will take the lead.

Five more rounds will follow tomorrow before the first event of the new $100,000 Julius Baer Challengers Chess Tour reaches its climax on Sunday.
The young stars of chess represent 12 nations and are competing for a prize pot totalling $100,000 and places.
They are receiving coaching and support from teams of coaches, which include world champions and legends of the game.
The Polgar Challenge, named after Judit Polgar, is the first of four tournaments before a tour final in September organised by the Play Magnus Group.
The team that wins the Julius Baer Challengers Chess Tour overall will also get a trip to this year's World Chess Championship in Dubai.
For further information, please contact:
Leon Watson, PR for Champions Chess Tour
leon@chessable.com
+44 7786 078 770
About the Tour:
Fronted by the strongest female player of all time, Judit Polgar, and former World Champion Vladimir Kramnik, the Julius Baer Challengers Chess Tour will run alongside the hugely popular Meltwater Champions Chess Tour.
The Tour is organised by the Play Magnus Group and is designed to tackle head-on the lack of female role models competing in top events and promote emerging talent. More information here.
Team Kramnik:
Nodirbek Abdusattorov (aged, 16, Uzbekistan); Rameshbabu Praggnanandhaa (15, India); Dinara Saduakassova (24, Kazakhstan); Jonas Bjerre (16, Denmark); Leon Mendonca (15, India); Lei Tingjie (24, China); Christopher Yoo (14, United States); Olga Badelka (18, Belarus); Carissa Yip (17, United States); Nurgyul Salimova (17, Bulgaria)
Team Polgar:
Nihal Sarin (aged 16, India); Awonder Liang (17, United States); Vincent Keymer (16, Germany); Gukesh D (14, India); Sarasadat Khademalsharieh (24, Iran); Volodar Murzin (14, Russia); Polina Shuvalova (20, Russia); Zhansaya Abdumalik (21, Kazakhstan); Jiner Zhu (18, China); Gunay Mammadzada (20, Azerbaijan)