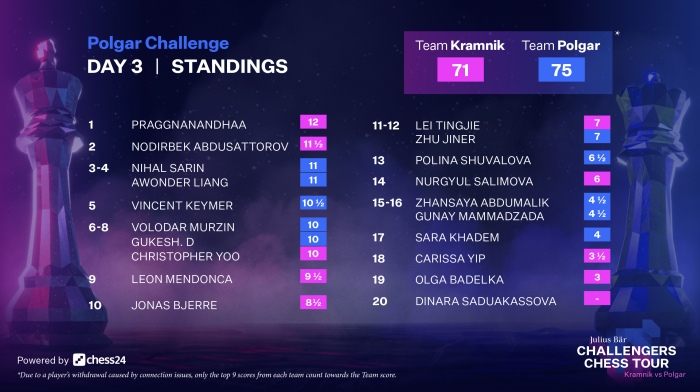 Indian prodigy Rameshbabu Praggnanandhaa is in pole position to win the Polgar Challenge as the online chess event enters its final day. The 15-year-old from Chennai won three in a row before being held to a draw against fellow Indian D Gukesh. A final-round loss against Germany's Vincent Keymer was the only blemish on his copybook.
With just four rounds left to play on Sunday, Team Kramnik star Pragg is on 12/15 with top seed Nodirbek Abdusattorov is just a half-point behind. Nihal Sarin, another Indian talent, and Awonder Liang are another half-point behind on 11/15 but it is Pragg and Abdusattorov who are the hot favourites.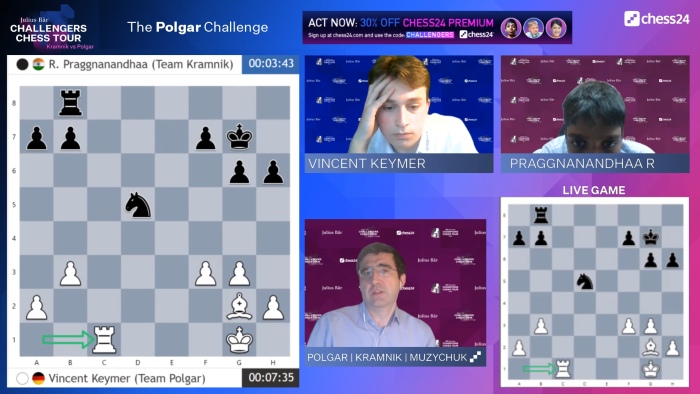 The two leaders are due to face each other in a mouth-watering Round 19 game that could decide the winner of the first Julius Baer Challengers Chess Tour event.
At stake is a chance to play in an elite Meltwater Champions Chess Tour tournament and face World Champion Magnus Carlsen.
In the team battle, Team Polgar edged ahead with 75 points to Team Kramnik's 71, despite Pragg and Abdusattorov both representing the second team.
Before the start of play, it was announced that due to connection problems IM Dinara Saduakassova, from Uzbekistan, had pulled out of the tournament. Play Magnus Group, the Tour organiser, made the following statement on how the event would proceed without her: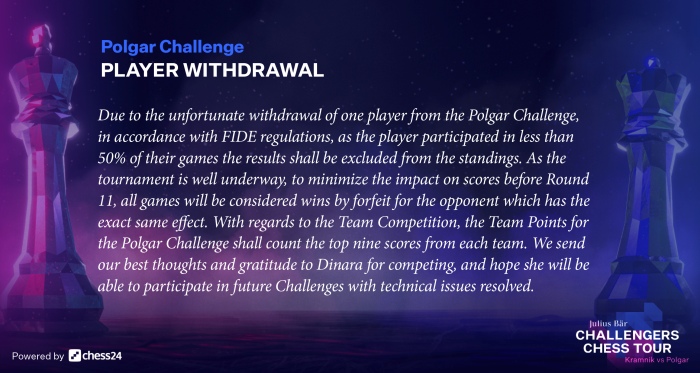 Four more rounds will follow on Sunday as the first leg of the new $100,000 Julius Baer Challengers Chess Tour reaches its climax.
The 20 young talents on show are divided into two teams, Team Kramnik and Team Polgar. The overall day 1 score finished 25-25.
The young stars of chess represent 12 nations and are competing for a prize pot totalling $100,000 and places on the Meltwater Champions Chess Tour.
They are receiving coaching and support from teams of coaches, which include world champions and legends of the game.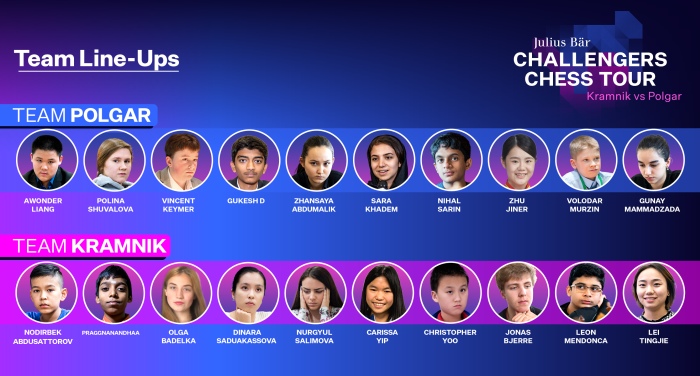 The Polgar Challenge, named after Judit Polgar, is the first of four tournaments before a tour final in September organised by the Play Magnus Group.

The team that wins the Julius Baer Challengers Chess Tour overall will also get a trip to this year's World Chess Championship in Dubai.
You can see the full results in detail and the games on chess24's website here.
For further information, please contact:
Leon Watson, PR for Champions Chess Tour
leon@chessable.com
+44 7786 078 770
About the Tour:
Fronted by the strongest female player of all time, Judit Polgar, and former World Champion Vladimir Kramnik, the Julius Baer Challengers Chess Tour will run alongside the hugely popular Meltwater Champions Chess Tour.
The Tour is organised by the Play Magnus Group and is designed to tackle head-on the lack of female role models competing in top events and promote emerging talent. More information here.
Team Kramnik:
Nodirbek Abdusattorov (aged, 16, Uzbekistan); Rameshbabu Praggnanandhaa (15, India); Dinara Saduakassova (24, Kazakhstan); Jonas Bjerre (16, Denmark); Leon Mendonca (15, India); Lei Tingjie (24, China); Christopher Yoo (14, United States); Olga Badelka (18, Belarus); Carissa Yip (17, United States); Nurgyul Salimova (17, Bulgaria)
Team Polgar:
Nihal Sarin (aged 16, India); Awonder Liang (17, United States); Vincent Keymer (16, Germany); Gukesh D (14, India); Sarasadat Khademalsharieh (24, Iran); Volodar Murzin (14, Russia); Polina Shuvalova (20, Russia); Zhansaya Abdumalik (21, Kazakhstan); Jiner Zhu (18, China); Gunay Mammadzada (20, Azerbaijan)