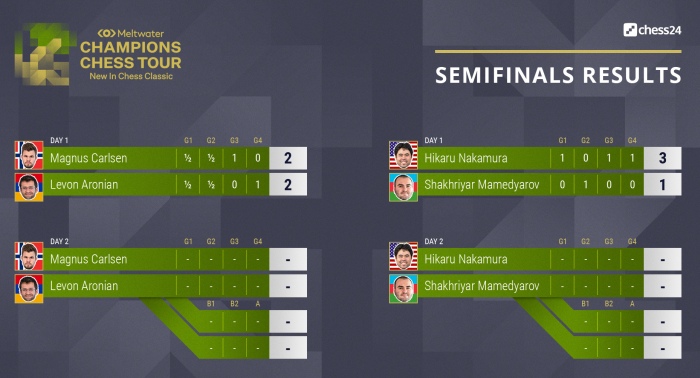 The dream of a Magnus Carlsen versus Hikaru Nakamura final could be shattered after a stunning show of resistance from Levon Aronian.
The Armenian, who plans to represent the US, came back from the brink to level the score against Norway's World Champion in a thrilling semi-final clash on Thursday. Aronian had looked dead and buried after a fighting display in the $100,000 Meltwater Champions Chess Tour event appeared to go wrong.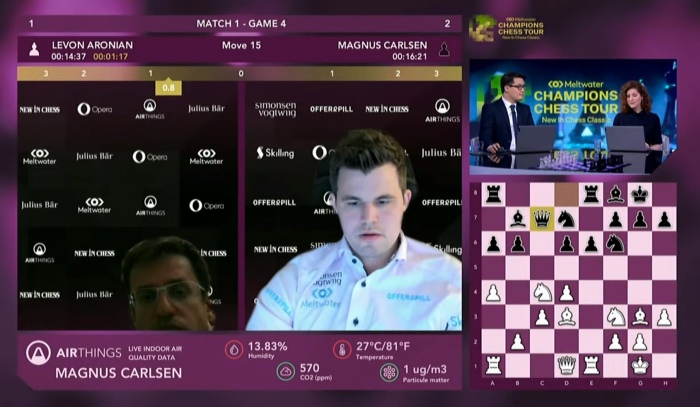 The 38-year-old started aggressively in game 1 and pressured the champ into making an extremely rare blunder. But Aronian, who was running short on time when it happened, couldn't find the route to victory and failed to cash in.
If that was a disappointment, it got worse for the Armenian. Game 3 was heading for a safe draw before he made an elementary error to hand Carlsen the win. It was a gift.
Did Aronian let his mistake affect him? No. In what was a must-win fourth game for him, the challenger fought back hard and dominated the position. More poor time-keeping pegged Aronian back again and, despite looking out of it at one point, Carlsen appeared to have wriggled out of the bind.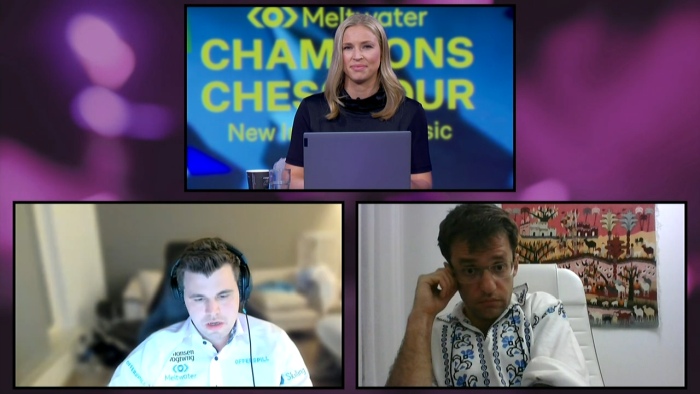 Aronian, however, found one last trick and took the game to level the set 2-2 will all to play for tomorrow.
Carlsen said after it was "an appropriate result" while Aronian said, "I just got lucky".
In the other semi, Nakamura was the big favourite and started with a win against Azeri number 1 Shakrhiyar Mamedyarov.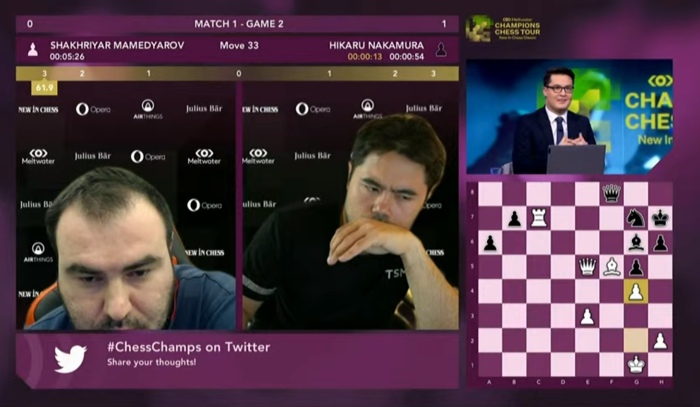 Mamedyarov, who is known for his unpredictable play, then put on a show to strike back immediately in game 2. It was a dominant win that belied his underdog status. But the Azeri was playing with fire and blundered badly in game 3 to hand the initiative back to the American. Nakamura didn't flinch and closed out the win.
Now 2-1 up, the favourite needed just a draw in the next to take the first set. As Mamedyarov went all-out, Nakamura took advantage. He won the final game and the set 3-1.
Both semis will resume today at 19:00 CEST.
For further information, please contact:
Leon Watson, PR for Play Magnus Group
leon@chessable.com
+44 7786 078 770