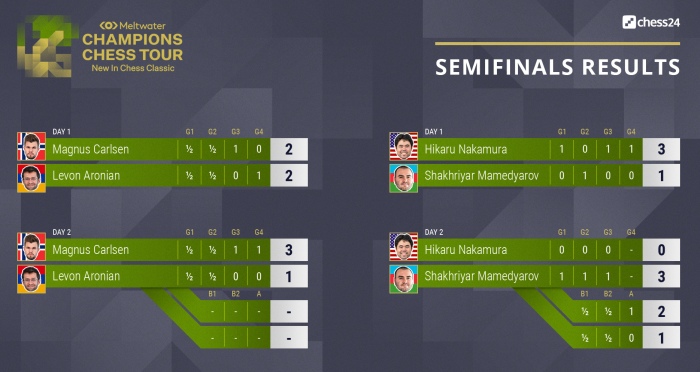 The two big beasts in online chess, Magnus Carlsen and Hikaru Nakamura, will meet in a dream final of the New In Chess Classic. Norway's World Champion and America's speed demon overcame spirited challenges to win through from the semis on Friday.
Levon Aronian gave Carlsen an almighty battle but sunk 3-1 in Friday's second set.
In the end, it was a smooth win for 30-year-old Carlsen and a sad end to what has been an impressive tournament for Aronian.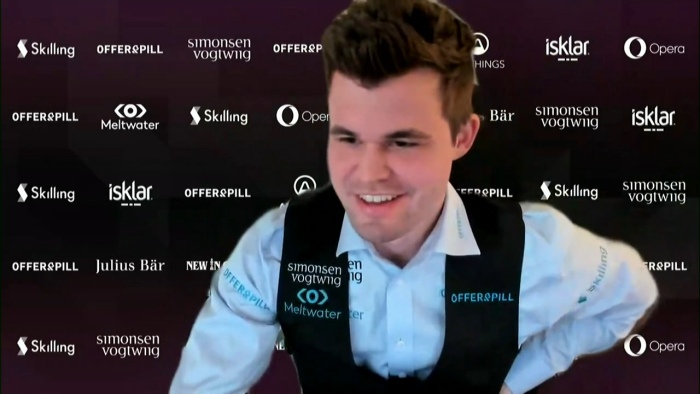 Asked if this could be his tournament, Carlsen said: "It could be, but I still feel I need to up my level for the final."
Meanwhile, Shakhriyar Memedyarov inflicted a rare 3-0 shut-out on Nakamura in the second set to level the tie. But then the Azeri number 1 collapsed under pressure in the Armageddon tiebreaker.
Nakamura, a master at tiebreak situations, admitted after it was "quite dramatic".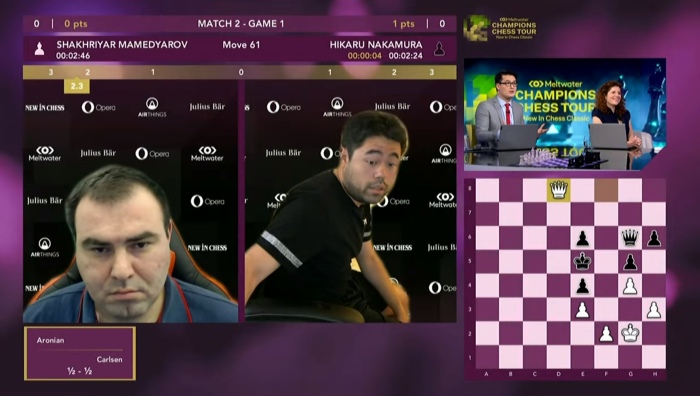 On how both himself and Carlsen have disappointed on the Tour so far, he added: "We both have a chance to redeem ourselves!"
Carlsen and Nakamura are long-time rivals who have battled each other for supremacy in the Meltwater Champions Chess Tour's rapid format.
But neither Carlsen nor Nakamura have won a Tour event this season. The last time they met in a final, it was the epic climax of the Magnus Carlsen Chess Tour last August.
Tomorrow they will go head-to-head for the $30,000 top prize and a first Meltwater Champions Chess Tour title. Play begins at 19:00 CEST.
For further information, please contact:
Leon Watson, PR for Play Magnus Group
leon@chessable.com
+44 7786 078 770