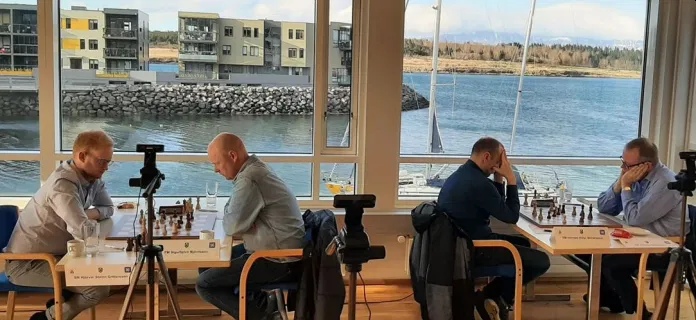 The Icelandic Championship, a 10-player round-robin tournament with classical time control took place from 22-30 April 2021 in Kópavogur.
This tournament was a very exciting event with a keenly contested final round that did not disappoint the participants and chess fans. The rating-favourite Hjörvar Steinn Grétarsson was a half-point ahead of Jóhann Hjartarson but the veteran put tremendous pressure on the leader by defeating Hannes Hlífar with black pieces.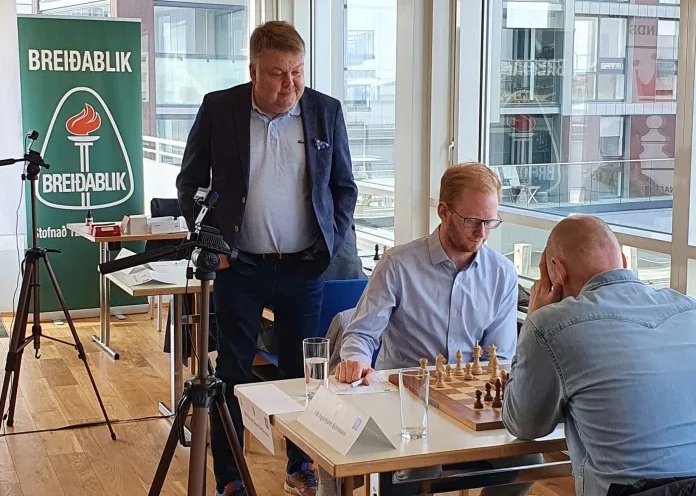 To his credit, Hjörvar did not flinch – he gradually outplayed Sigurbjörn Björnsson to score a full point in an endgame and took his first national title. Gudmundur Kjartansson finished third and earned bronze.
Final standings:
1. Gretarsson, Hjorvar Steinn (2588) – 7
2. Hjartarson, Johann (2523) – 6½
3. Kjartansson, Gudmundur (2503) – 6
4. Thorfinnsson, Bragi (2432) – 5½
5. Stefansson, Vignir Vatnar (2327) – 5
6. Gretarsson, Helgi Ass (2437) – 5
7. Stefansson, Hannes (2532) – 4
8. Thorfinnsson, Bjorn (2384) – 3½
9. Bjornsson, Sigurbjorn (2327) – 2
10. Mai, Alexander Oliver (2025) – ½
Photo: Ingibjörg Edda
Official website: skak.is/skakthing/