There were no quick draws in the sixth round of the Isle of Man Grand Swiss, as things got heated on the leading boards. With very sharp positions being played, there were several games in which top GMs played either with one or even two pieces down. This was also the day when the best of the best – the top world elite, made up of Carlsen, Caruana, Aronian, Nakamura, Anand – have not only won their games, but crushed their opponents. When the dust settled, there were two players in the lead: Wang Hao of China and World No 2, Fabiano Caruana, of the U.S, who are both on five points out of six. The World Champion, Magnus Carlsen, scored another victory and is trailing the top players by half a point, joined by six more players. With the key five rounds left to play and a rest day ahead, the scene is set for a ferocious battle at the top in what is one of the strongest chess tournaments in history.
On the top board, Fabiano Caruana was playing as white against the Russian star Vladimir Fedoseev. Black played the Sicilian Defence which was met by the Rosollimo Attack. Fedoseev did not seem to be well prepared for the line played, choosing to castle his king earlier than he should have. Caruana managed to put enormous pressure on the queenside and pushed his pawn down to b6, pinning down Fedoseev's pieces. Trying to break out, Fedoseev first gave up an exchange and then, in a desperate attempt to stop the advance of white's dangerous b-pawn, had to make another sacrifice and ended up a full rook down. Vladimir continued, clinging to his last bit of hope - a pawn on d3. Any chance of the pawn progressing was efficiently stifled by Caruana who left his opponent no other options but to contemplate when to resign in the final moves of the game.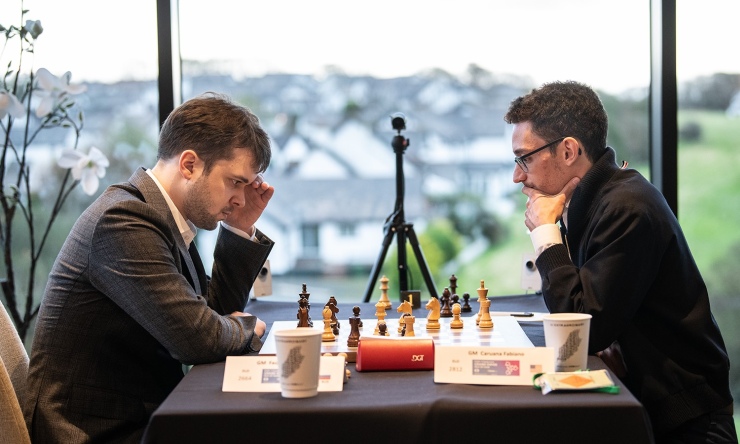 [Photo: David Llada/FIDE]
On board two, the Junior World Champion (2018) Parham Maghsoodloo had white pieces against Alexander Grischuk of Russia. The opponents played Rui Lopez and after what was a pretty sharp set of moves the position became even. The game ended in a draw on move 24, after repetition. A solid outcome for both players who, having finished within two hours and having secured a spot among the leaders of the tournament, also gained more time to relax and prepare for the decisive showdown which follows after the rest day.
On the third board, Wang Hao was facing Luke McShane, who found himself in a difficult position by the middlegame. Englishman who was stripped of victory by Fabiano Caruana the day before, after almost seven hours of play, had another tough opponent. Wang dominated throughout, putting Luke in a psychologically challenging situation. After the exchange of queens and further simplifications, they reached the endgame which seemed less difficult for Black, but still problematic: white was a pawn up and after further exchanges, he ended up with the knight, bishop and an extra pawn in the center, against black's two knights. Wang pushed forward with his king and coordinated the pieces in such a way that there was no counterplay for McShane. With this victory, Wang Hao joined Fabiano Caruana on the top position after the first part of the tournament.
Glorious sacrifices and smoke and mirrors
After obtaining a solid position as white on board five, Sergey Karjakin got into trouble with Yuriy Kryvoruchko who took the initiative from move 20. By move 26, Karjakin was in dire straights: with five minutes on his clock, he needed to quickly make 14 moves in order to reach the first time control. Further problems followed before move 40, as Black launched an onslaught on White's position, eventually collecting his castle-pawns and dangerously exposing Karjaking's king. Just as the opponents reached the first time control, on move 40, Kryvoruchko had a queen and four pawns against Sergey's queen and a knight. However, Yuriy's king was also exposed. Eventually, Yuriy emerged two pawns up in the queens ending but luckily for Karjakin, Black's king was unable to escape a perpetual check.
On the sixth board, Levon Aronian was playing Aleksey Dreev in what was an unusual game. The opponents had a discussion in a very sharp line, with threats from both sides. The critical moment of the game came when Aronian moved his pawn from f2 to f4, exposing his king on f1. Black decided to castle and allowed his bishop to be trapped and later taken. Dreev was counting on a sharp attack and sacrificed another piece to create some threats which turned out to be nothing but smoke and mirrors. With two pieces down and with no more checks to give, Dreev resigned, putting Aronian on 4.5/6.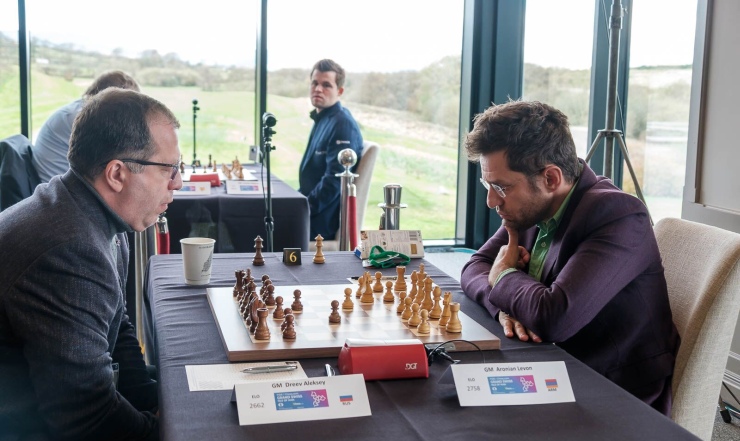 [Photo: John Saunders]
One of the most exciting games of the day was played on board seven, between the Russian Nikita Vitiugov and Matthias Bluebaum of Germany. In an even position, after an ordinary 16…c6 move, White came up with an inspiring bishop sacrifice on f7, removing a pawn off black's castle and exposing his monarch. Once Black missed the best defensive move which would have assured the security of his position he was immediately lost. Threatening checkmate, White got into black's back ranks (where undeveloped pieces on the queenside laid exposed) and secured a winning endgame.

Carlsen 'catching fire' as he scores his seventh victory over Shirov
Board four saw a duel between World Champion Magnus Carlsen and the World No2 from 25 years ago, Alexei Shirov. The two played each other 16 times in classical games, from 2005 to 2011 (with Carlsen winning six, losing two and drawing eight). Carlsen had a good score even before he reached his prime, but the duel on the Isle of Man was their first encounter in 8 years!
The World Champion outmaneuvered Shirov by the middlegame, timely sacrificed an exchange and zeroed in on a dangerously exposed opponent's king. Alexei had just over five minutes to make 12 moves and was – by all means – lost, having to return material (Carlsen had a dangerous bishop for which Shirov had to give (back) an exchange). In the end, Carlsen had an extra pawn in the center in a queen endgame. Shirov's only chance was to exchange the queens in hope of advancing his unopposed two queenside pawns, but Carlsen carefully avoided the exchange while at the same time clearing the kingside for the advance of his soldiers. Shirov was left with no other option but to resign.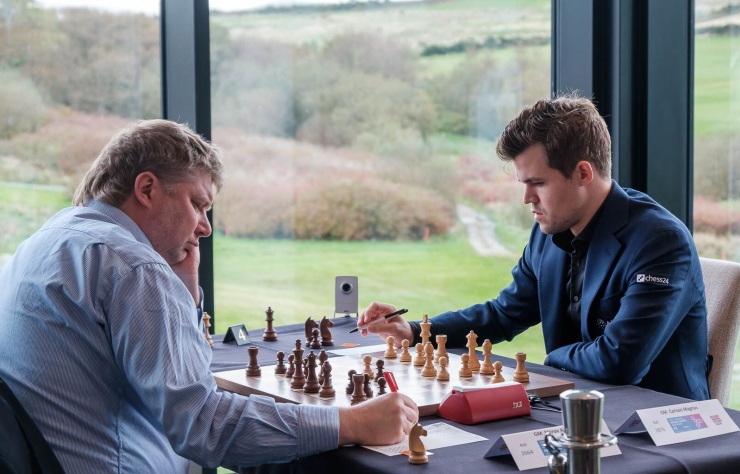 [Photo: John Saunders]
Svidler's 30 moves with a piece down
Another interesting game of the round happened on board 18, where the eight-time Russian champion Peter Svidler was playing as white against five-time Romanian champion Constantin Lupulescu. In a game full of twists and turns, Svidler ended up down a piece by move 41. For the next two hours – and 30 more moves – the Russian was fighting in a tough position, eventually leading to a knight and three pawns against a knight, a bishop and two pawns. Svidler's only chance was that his king was close to black's pawns and the Russian GM did not miss this opportunity. The game ended in a draw, with black having a bishop and a knight and white having a pawn and a knight.

Vishy and Nakamura one step closer to the front, while So draws for the fifth time
With another victory, in round six, Vishy Anand is now on four points and is one step closer to the frontrunners. He achieved a solid position as White against the 15-year-old Uzbek prodigy, Nodirbek Abdusattorov and later managed to create a loose pawn on b5. Relentlessly harassing Black's position with an active queen and bishop, Anand transformed his positional advantage into an extra pawn and an unstoppable pawn on the h-file. Facing the inevitable defeat, the young Uzbek had no option but to resign.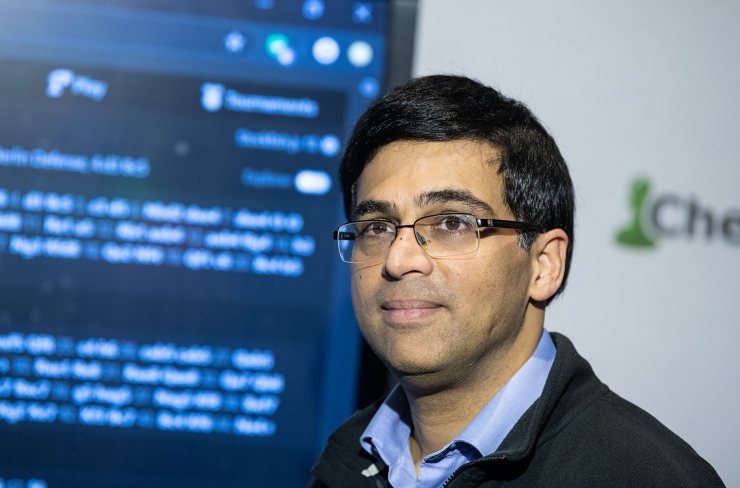 [Photo: David Llada/FIDE]
Hikaru Nakamura had a very effective win as white against Alexander Riazantsev who is one of the coaches of the Russian women's national team. In a standard Caro-Kann position, Riazantsev made a mistake in capturing white's h5 pawn, underestimating Hikaru's attack. In two moves the American pounced on Black's king completely shattering his fortress. Nakamura is now on four out of six, the same as Anand.
After securing his first victory in round five, Wesley So had another (relatively quick) draw in round six and is now on 3.5 points, diminishing his chances for a strong performance in this event.

At the crossroads
After six days of play, and five more rounds to go, the tournament on the Isle of Man has reached an important crossroad: two players are in the lead with another seven a half-point behind. Aronian and Grischuk, two hopefuls of getting into the Candidates, are just a half-point behind the leading duo. Carlsen and Caruana, who are playing for money and glory, will undoubtedly cause problems for the other hopefuls.
The players will get a day's rest on Wednesday, the 16th, to recharge batteries, assess where they are and figure out their approach in the second - decisive - part of the event. They will need strength, guts but also – when it comes to the pairings – some luck.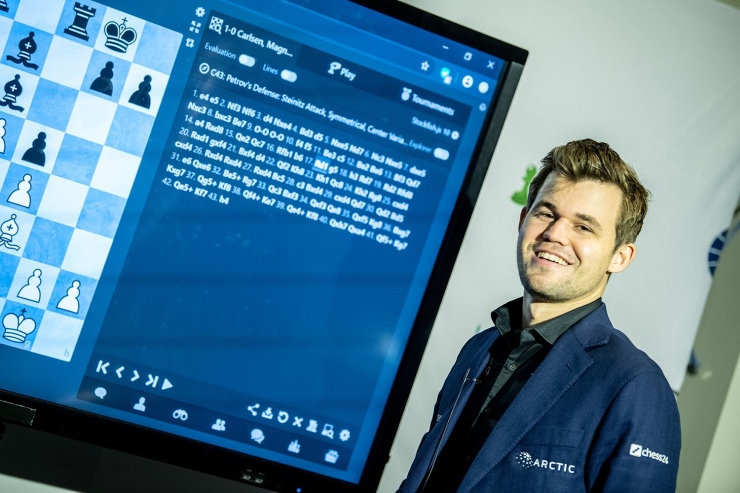 [Photo: David Llada/FIDE]
Text: Milan Dinic
Photos: David Llada, John Saunders, Maria Emelianova
IOM International Chess Limited:
Tournament Director Alan Ormsby
masters@iominternationalchess.com
+44 7624 453200

Chess.com:
Director of Esports and Events Nick Barton
nick@chess.com
+1 8326223010
FIDE:
Chief Communications Officer David Llada
press@fide.com
+34 680312625