The seventh day of the Isle of Man Grand Swiss tournament was a Day of draws. On the top 20 boards, only four games ended with a decisive outcome (and in all four cases, White was victorious). One of them was particularly important – Levon Aronian defeated the leader of the tournament, Wang Hao of China and has now emerged at the top! The second leader – Fabiano Caruana – drew with black pieces against Alexander Grischuk in a very time-challenging game for both players. There are now two leaders at the top and they will face each other in round eight: World No 2, Fabiano Caruana, and Armenian Levon Aronian, for whom this tournament is likely the last chance to get on the Candidates' boat and fight for the opportunity to become World Champion. A large number of draws in round seven made things more complicated in the upper ranks as those players who scored a victory managed to climb up the ladder and add to the pressure on the rest.

On board one, it was a chance for another Russian, Alexander Grischuk, to try and bring down Fabiano Caruana from the top board, after Fedoseev failed in round six. Time seemed to be the key factor of the game as first Grischuk got into serious trouble only to be joined by Caruana at the end.
In the English opening, White (Grischuk) played a system for which Caruana later said he wasn't fully prepared. The Russian, however, quickly got into time trouble: after two and a half hours and just 17 moves played, Grischuk had less than 20 minutes on his clock. The situation looked pretty dangerous for the Russian GM.
Things then got crazy on the board, with Grischuk pushing forward the g-pawn in front of his king, launching an attack on the Black's monarch. With good control in the center and two bishops well aligned to support the advancement, it seemed that Caruana was in real trouble. The World No 2 however was defending well, snatched a pawn while preparing a counterattack. Grischuk – a pawn down and weaker on time – had to switch to defense. After the exchange of queens, Fabiano Caruana pushed his opponent towards a complicated endgame. Interestingly, Magnus Carlsen came over several times to check what's going on.
Grischuk had under 30 seconds on his clock when the game was on move 29 (!) but thanks to the 30-second increment per move, he managed to hold the balance and even forced Caruana to spend more time. Eventually, both players found themselves in time trouble. Just a few moves before the 40-move watermark, opponents had under a minute on their clock. At one point, Caruana had even less time than Grischuk! Some were wondering, could Grischuk – the three-times Blitz world champion – outplay the World No 2 in a blitz endgame? But Caruana held his nerve and played it steady.
With 35 seconds on his clock, Girschuk made it to the 40th move and reached the first time control. At that point, he got up from the board for the first time. The game was, however, to last for just further two moves – Grischuk went for a repetition of checks and the two agreed to a draw.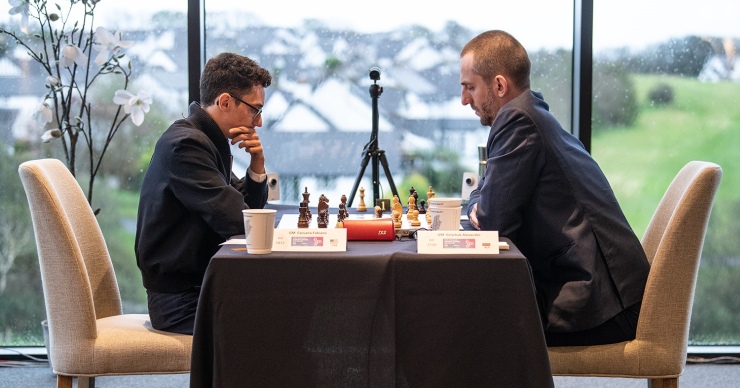 (Photo: David Llada)
Aronian breaks through the hurdle
On the second board, Levon Aronian, as white, was facing one of the leaders after round six, Wang Hao of China. After white secured better control in the center, Black tried to counter it by sacrificing a pawn to activate his queenside pieces. Aronian saw through black's plans and by move 23 the extra pawn transformed into a passer on the a-file for White. Wang then pushed for the exchange of queens which Aronian eventually had to accept, leading into a four-rook endgame with an extra pawn for White. The computer was showing that the position is likely a draw.
Aronian, however, pushed forward. By move 42 Levon's a-pawn fell, but his king infiltrated to h6, endangering black's pawns. By move 46, one set of rooks was exchanged, with White pressing black from the back-ranks. Wang was in time trouble and that was an important factor for Aronian who kept the pressure up. Wang Hao was down to 1 minute and – according to the computer – there was only one(!) move held the position – 56…Rd3. After the Chinese GM played 53…Ra3 instead, it was all over for him. Just two moves down the road Wang Hao resigned.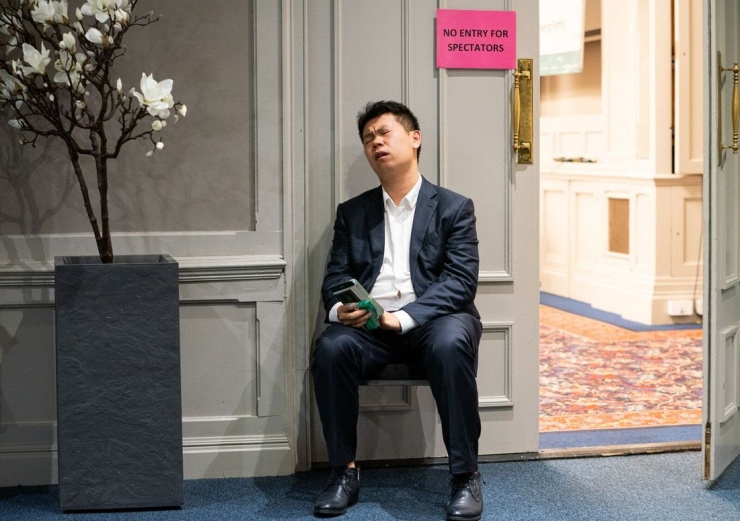 (Photo: Maria Emelianova)
Like after Round six, there are now two players at the top (with 5.5 points) with the other seven (now on five points) on their heels: Wang, Alekseenko, Grischuk, Maghsoodloo, Guijarro, the World Champion Carlsen, and Vitiugov. Aronian will be facing the World No 2, Fabiano Caruana, the central encounter of the round eight and probably one of the most important games in the tournament for the Armenian. In an interview with chess.com after the game, when asked about the forthcoming game against Caruana, Aronian said: "It is always good to play somebody you respect - somebody who forces you to respect him!"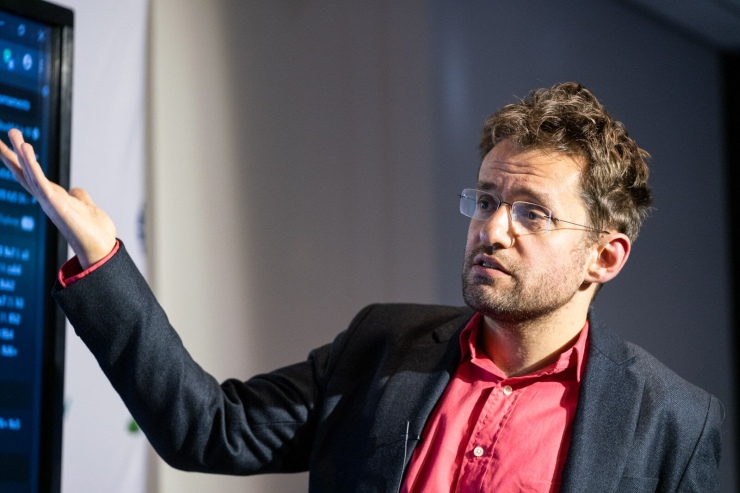 (Photo: Maria Emelianova)
Alekseenko withstands Carlsen's pressure
On board three, Kirill Alekseenko (who, as of last round, joined the 2700-club) was playing as white against Magnus Carlsen. The position was even throughout the game, but it seemed that white had more opportunities for active play. The best chance Carlsen had was in creating a passed pawn on the a-file but white was able to control that. In a double-rook endgame, being a pawn down and having to play precisely to maintain balance, the World Champion pushed his pieces forward hoping for an offensive. It seems that Carlsen wasn't happy with a draw, despite the position suggesting it, and he went on testing his luck and that of his opponent. The World Champion ended up with an extra pawn in a rook endgame but the evaluating of the position as drawish did not change. Nevertheless, Magnus declined a draw offered by his opponent, but in the end, the two agreed to split a point.
More draws followed on all of the other top-10 boards. On board six Ukrainian Yuriy Kryvoruchko had an edge against the five-time world champion Vishy Anand, but he failed to convert his advantage and the two shook hands after 47 moves. Sergey Karjakin seemed to be struggling on board seven against Vladimir Fedoseev, but 'The Minister of Defense' managed to hold his opponent to a draw. On board eight, last year's Isle of Man victor, Radoslaw Wojtaszek was playing against Spain's Alexei Shirov, who lost to the World Champion in round six in a very complicated game. The game saw Marshall Gambit and by move 31 the two reached opposite-colored bishops drawing endgame. A somewhat similar situation happened on board nine, between Baskaran Adhiban and Hikaru Nakamura: by move 30, with the bishops of the same color and three pawns each, the opponents decided to call it a day.

Draws and more draws
On boards 11-20 all games apart from three encounters were draws.
In a day when most top players drew their games, Wesley So – who had five draws and only one victory – added another point to his score. So was White against Indian Surya Shekhar Ganguly. The Sicilian Defense was played and after some maneuvers by both sides on the queenside, So ended with an exchange up. The play transpired into a rook vs bishop endgame, but black had two pawns while white had one. Wesley So, however, had his pieces well-positioned and confidently forced his opponent to resign. With many draws on day seven, this victory propelled So (who is now on 4.5/7) significantly closer to the top group.
On board 15, Bu Xiangzhi lost to Hrant Melkumyan who managed to catch black's king in a mating net.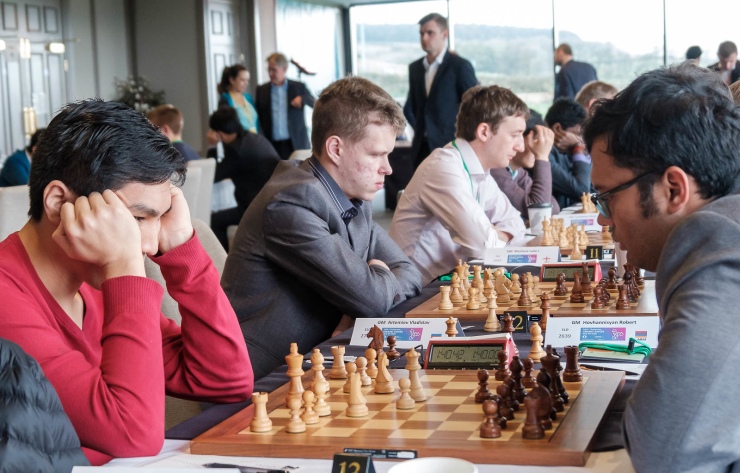 (Photo: John Saunders)
An interesting game was played on board 20 between the Egyptian champion and first African GM to reach the 2700-mark, Bassem Amin (who is also a medical doctor) and China's Zhong Zhang. On move 17 Zhang sacrificed a piece to launch an attack on the castle of Black's king. Amin could not fend off of the threats by white's queen and white-squared bishop, firing along a2-g8 and b1-h7 diagonals. Starting from move 17 onwards it was all White while Black had to desperately defend until his resignation on the move 32.
The last game to end in the top-20 was the encounter between the young Rinat Jumabayev of Kazakhstan and experienced Israeli GM, Boris Gelfand. The ending saw Gelfand try to neutralize the opponent's advantage of two pawns. Eventually, Black's active pieces (including the king) helped Boris to reach a safe haven on the move 81.
The Peripatetic chess of Boris Gelfand
Here it is worth mentioning one interesting detail – the above-mentioned encounter, due to its very complicated endgame, saw Gelfand probably spending most time seated at the board than in any other case in the previous rounds. One of the questions many of those present at the Isle of Man Grand Swiss have been asking is: how many kilometers/miles has Boris Gelfand walked in the game room? Like the philosopher Aristotle who conducted his teaching while walking with his students, the chess-world heavyweight is always on the move: Boris almost never sits at the board apart from when he is about to make a move, and constantly strolls up and down the hall, respectfully acknowledging others with a smile and a nod, and checking out other games!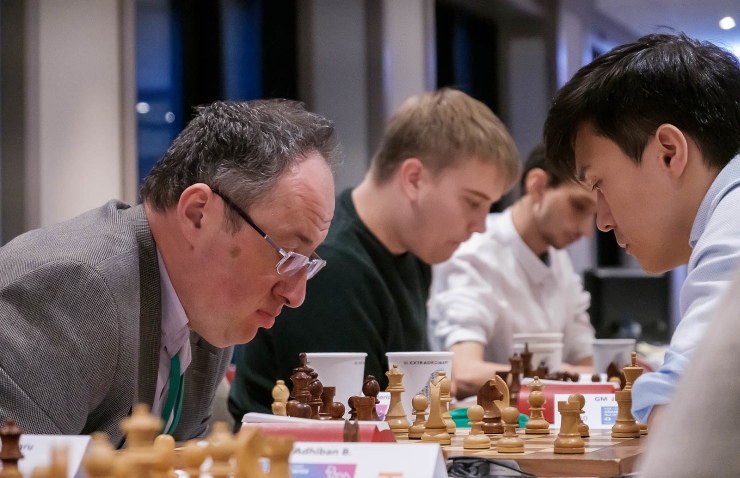 (Photo: John Saunders)
The kings of draws
While round seven did see the greatest number of draws on the top boards so far, there are, currently, two Kings of draws on the Isle of Man Grand Swiss: Jorden Van Foreest of The Netherlands and Victor Erdos of Hungary, who have not had a decisive game in all seven rounds so far! The two have not met in the tournament so far, therefore, a duel between the two would be interesting!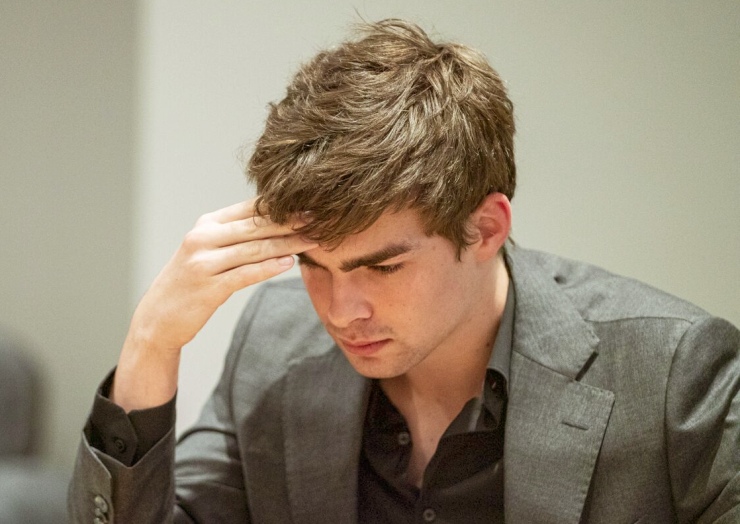 (Photo: Maria Emelianova)
It is also worth noting that there is an unusual pool of very strong (around or over 2700) players who are (only?) on 50% so far: Pentala Harikrishna, Bassem Amin, Sam Shankland, David Howell, Paco Vallejo Pons, Gata Kamsky, and Ernesto Inarkiev. In this group, there are also two women competing for the top female prize at the event: Harika Dronavalli and Dinara Saduakassova.
Text: Milan Dinic
Photos: David Llada, Maria Emelianova/Chess.com, and John Saunders
IOM International Chess Limited:
Tournament Director Alan Ormsby
masters@iominternationalchess.com
+44 7624 453200
Chess.com:
Director of Esports and Events Nick Barton
nick@chess.com
+1 8326223010
FIDE:
Chief Communications Officer David Llada
press@fide.com
+34 680312625