The final day of the Isle of Man Grand Swiss turned out to be decisive in determining the winner. The round started with World No 2 Fabiano Caruana being the leader (7.5/10) a half-point ahead of seven players (all of which, save the World Champion, were fighting for the spot in the 2020 Candidates tournament). Caruana drew his game with Hikaru Nakamura and, with 8 points, secured at least a tie for the first place. The game that changed everything was played on board three where Wang Hao of China faced David Howell of England. After the Englishman blundered in an even position and was forced to resign, the Chinese GM secured the top spot (thanks to a better tiebreak than Caruana, who was pushed to the second place) and the slot in the Candidates Tournament. Six players tied for the third place, with Russian Kirill Alekseenko coming on the top among them, again thanks to a better tiebreak. The best-performing women players of the tournament are Harika Dronavalli of India and Dinara Saduakassova of Kazakhstan who both finished on 5.5/11.
The key games of the final round
On board one Hikaru Nakamura played as White against Fabiano Caruana, who was before the round the sole leader of the tournament. The Petrov Defense was played in which Nakamura chose a side-line with 7.h3 aiming to get off the beaten theoretical paths. Caruana, however, wasn't caught out unprepared and continued to develop his pieces.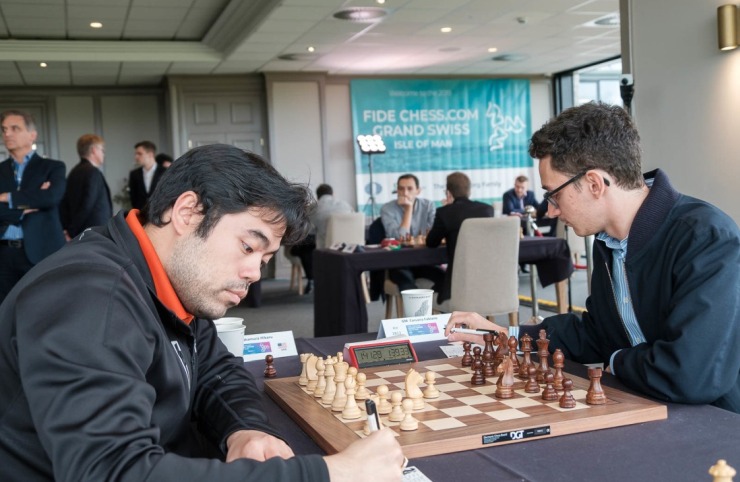 (Photo: John Saunders)
Both players were fighting for control in the center but the position remained balanced. After an exchange of the queens on move 23 the opponents were heading to an even endgame. Nakamura could not avoid further simplifications in the center and soon two players agreed to split a point.
This was the first game to finish among the top eight of the tournament. With even positions on all other boards, it seemed that Caruana will be the sole winner, half a point ahead of everyone else. But things were about the change...
Carlsen sets a new unbeaten record
It was a make or break moment for Levon Aronian who was playing against the World Champion Magnus Carlsen on board two. It was Aronian's last realistic chance to qualify for the Candidates and the opportunity to take down Magnus Carlsen. The only way to do this was to defeat the World Champion in the last round of the Isle of Man Grand Swiss.
Carlsen, for his part, also had a lot on the line (and it wasn't just a spot at the top, or the prize money): the World Champion was on the verge of setting a new world record – 101 games without a loss.
It all started with a sharp line of the Nimzo-Indian. The game quickly developed into a very dynamic position with both sides creating threats. White sacrificed a pawn in the center for the initiative, trying to exploit black's lag in development, but Carlsen managed to mobilize his queenside pieces and emerged with an extra pawn.
In the following complications, Aronian event won a knight but soon had to return his extra piece to reach an even rook endgame, in which the opponents sealed a draw.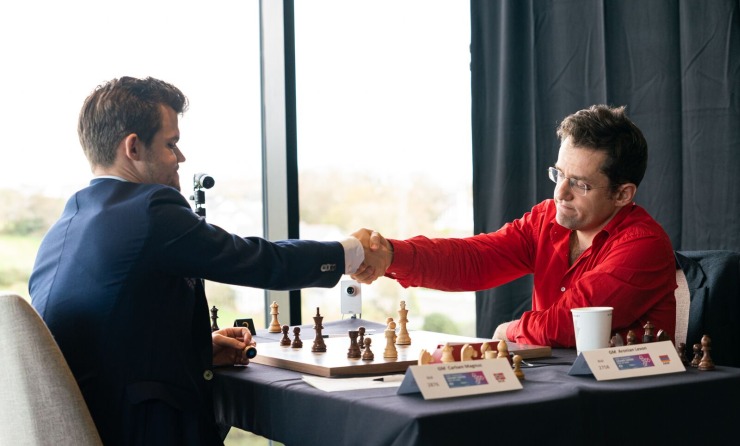 (Photo: Maria Emelianova/Chess.com)
The last top game to finish
Board three saw a Russian derby between Nikita Vitiugov and Kirill Alekseenko. The game was last to finish among the top boards.
In a complicated battle in the Italian Game White (Alekseenko) pushed in the center and, after an exchange of rooks, ended up with a dangerous passer on d6. Black, however, had a passing pawn of his own on b6.
Vitiugov sacrificed his e5-pawn for some activity which was enough for maintaining equilibrium. However, White managed to exchange queens and preserved his extra pawn in the knight endgame. Alekseenko might not have used all his chances but we have to give credit to Vitiugov, who put a stubborn defense and saved a half-point. After 56 moves and six hours of play, the two players agreed to a draw.
The game to determine the tournament winner
The key result of the round and maybe of the whole tournament was registered on board four. Wang Hao of China was playing against David Howell of England.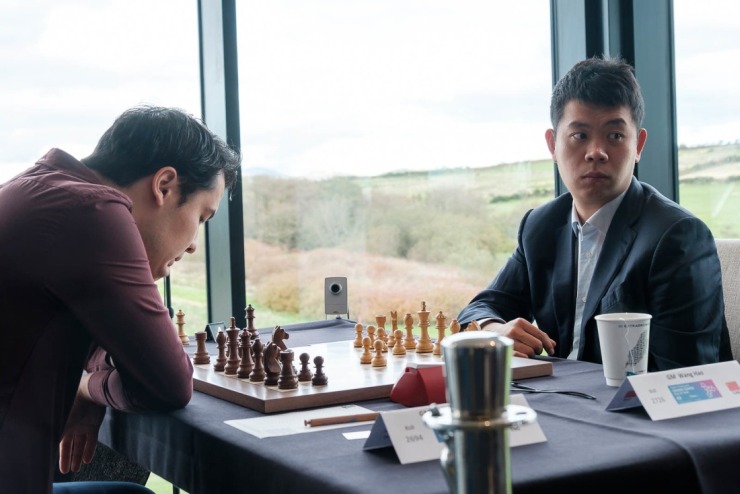 (Photo: John Saunders)
Wang had a very strong tournament, constantly playing on the top-boards as one of the leaders. In his final game of the tournament, Wang had the advantage of white pieces, but more importantly – the best tiebreak score among all other players with seven points, which meant that he was in the best position to secure a place in the Candidates, even with a draw.
He was facing David Howell, the English GM who by the first half of the tournament had only 50 percent and then scored an impressive 4.5/5 in the second part. Out of all of the other top players with seven points after 10 rounds, Howell had the worst tie-break. This meant that – if the Brit wanted to get in a chance to challenge Carlsen for the World Champion title – he needed a victory.
Howell played the Grünfeld Defense, but Wang pushed for an exchange of pieces in the center which suggested he was going for a draw.
The symmetrical position emerged, with White being slightly better developed. On move 14 Howell went into a deep think – spending more than 25 minutes on the crossroads: to follow the line of simplifications and draw or, to risk it all and go for a win. Howell played 14…Be6 which led to further exchanges, with both white and black pawns falling on the queenside.
Howell was, however, worse on time. After over two and a half hours of play, the top two boards drew. This meant that Wang needed a draw to qualify and a win to take the tournament. Then, on move 18, Howell committed a terrible blunder: he moved his bishop on d5, apparently overlooking a simple pin with 19.Rd1. In the next two moves he had to give up his queen for a rook and a bishop, but Black's position was absolutely hopeless. The game lasted until move 37 when Howell resigned.
Interestingly, in the final four games of the tournament, Wang Hao was OK with a draw – he shared a point in round eight with World Champion Magnus Carlsen and round nine with Nikita Vitiugov. Then, in rounds 10 and 11, his opponents made blunders in even positions and lost. "Today, I thought that a draw was a good result as well", Wang said afterward.
It is an enormous success for Wang and a great tragedy for Howell, who seemed to be on a roll with 4.5 in the last five rounds of the tournament.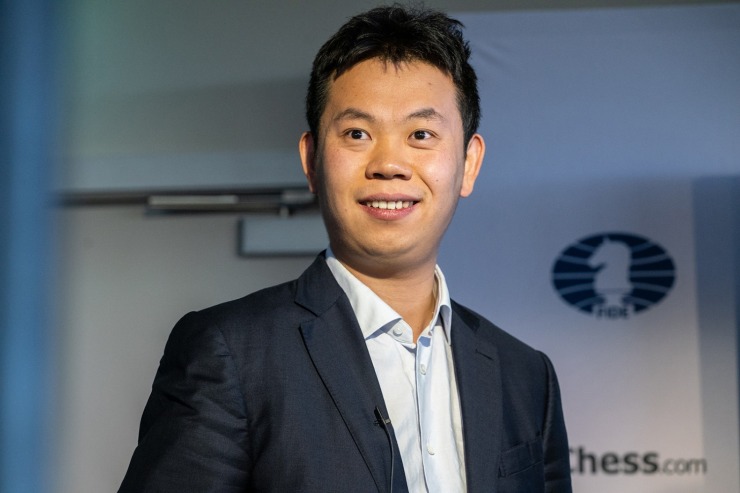 (Photo: Maria Emelianova/Chess.com)
Wang Hao: This was an unexpected victory for me
"This was a very unexpected victory for me, but I'm happy", Wang Hao told immediately after he achieved a victory securing first place and a spot in the Candidates' tournament. "Although I was thinking of withdrawing from this tournament, as I was really tired from the World Cup, I decided to play and now this victory will affect my future and life plans."
Q: What now?
Wang Hao: Now I need to go back home, sit down and think about how to continue. I don't have a team working with me. Basically, I was working on my own and only playing with my students.
Q: Will you be creating a team of people coaching and supporting you?
Wang Hao: I am hoping to create a small team – three to four people – who will be able to help me. I am, however, not sure if I'll be able to do so.
Q: On one occasion you said that you were thinking about your plans for the future and suggested that maybe chess was not the only career choice for you.
Wang Hao: I'm not so sure. To play the Candidates' is a great experience. However, after a few years maybe I will do something else apart from chess.
Q: Do you think you can take down Magnus Carlsen if you get a chance to play him in the match for the title?
Wang Hao: Too far ahead to think about this. it's still early days. I could definitely play him, but let's first see what happens in the Candidates'.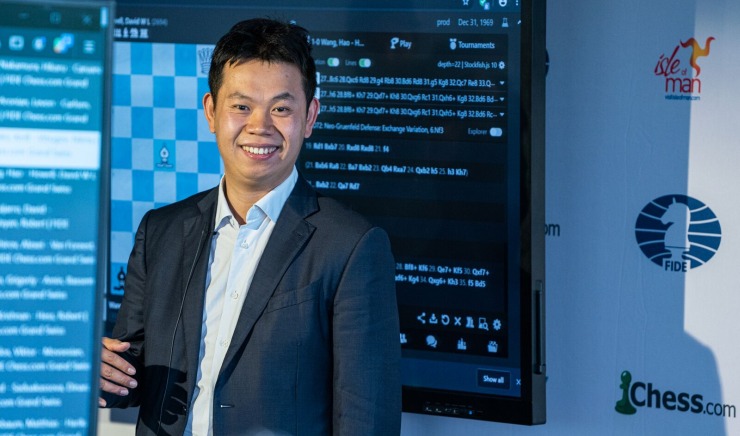 (Photo: Maria Emelianova/Chess.com)
The kings of draws
Two players at the tournament drew all 11 games: Victor Erdos of Hungary Jorden Van Foreest of Holland split a point in every single encounter they played.
Draws were common results in the final round of the tournament on the lower boards as many GMs seemed to be tired of playing while some were getting ready to catch early flights to Batumi where the European team championship starts on the 23rd October.
Harika Dronavalli wins the best women prize on tiebreak
After Harika Dronavali (India) drew her last round game with GM Matthias Bluebaum and Dinara Saduakassova (Kazakhstan) scored a victory over an Egyptian GM Ahmed Adly, both reached 5.5 points out of 11 and became the best performing female players of the tournament.
Harika, however, had a better tiebreak which meant that she won the best woman-player title. As for the prize money, Harika and Dinara split $10,000.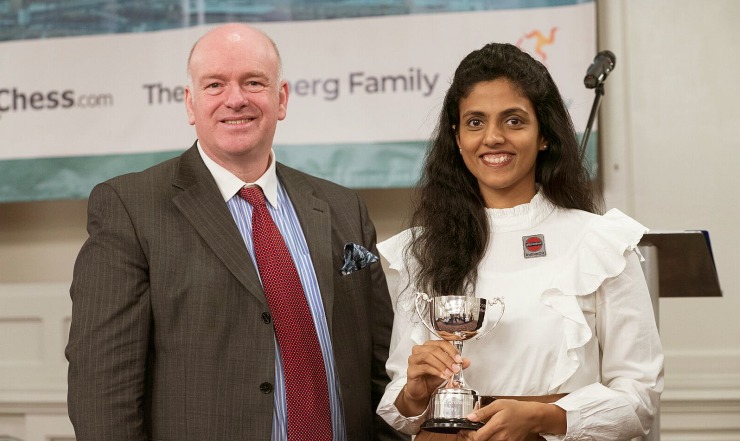 (Photo: Maria Emelianova/Chess.com)
The third best performing woman player was Alina Kashlinskaya who lost her final game against GM Rinat Jumabayev and finished on 5/11.

The Closing ceremony
The Fide/Chess.com Isle of Man Grand Swiss ended with a ceremony in which The Isle of Man Chief Minister Howard Quayle MHK presented the trophies and prizes to the top players.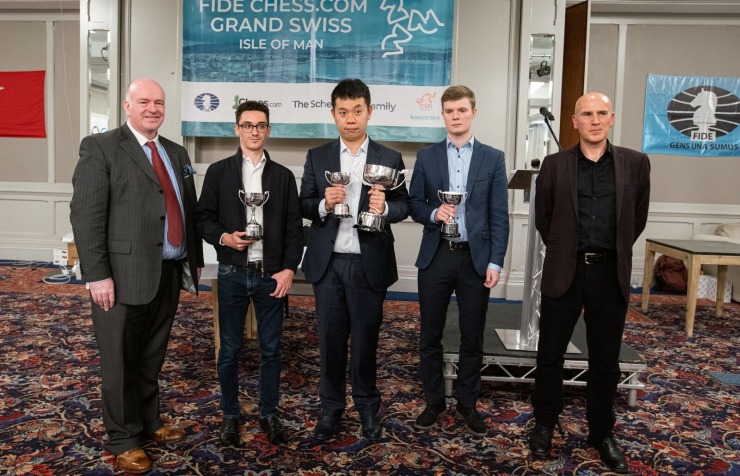 (Photo: Maria Emelianova/Chess.com)
In his brief speech, Alan Ormsby – who has been the director of the Isle of Man tournament since its beginning – expressed his deep satisfaction with how the event went and congratulated the players. Ormsby also announced the provisional dates for next year's Isle of Man tournament – 14th to 25th of October 2020.
The head of the FIDE Appeals Committee – and for over two decades the head of the TATA Steel Tournament - Jeroen van den Berg said that in his opinion the tournament went well and that the partnership between FIDE and organizers of the Isle of Man tournament was a success:
"The organizers have proved in the past that they know how to do their job. As a colleague organizer, I can only say that they did a good job. From the perspective of FIDE, I have no complaints: there were no appeals from players, on the contrary, they were very relaxed and seemed to have enjoyed themselves. The Isle of Man event was the first time that a Swiss tournament was being organized in partnership between FIDE and a private organizer and it proved to be a good decision."
Text: Milan Dinic
Photos: Maria Emelianova/Chess.com, and John Saunders
IOM International Chess Limited:
Tournament Director Alan Ormsby
masters@iominternationalchess.com
+44 7624 453200
Chess.com:
Director of Esports and Events Nick Barton
nick@chess.com
+1 8326223010
FIDE:
Chief Communications Officer David Llada
press@fide.com
+34 680312625