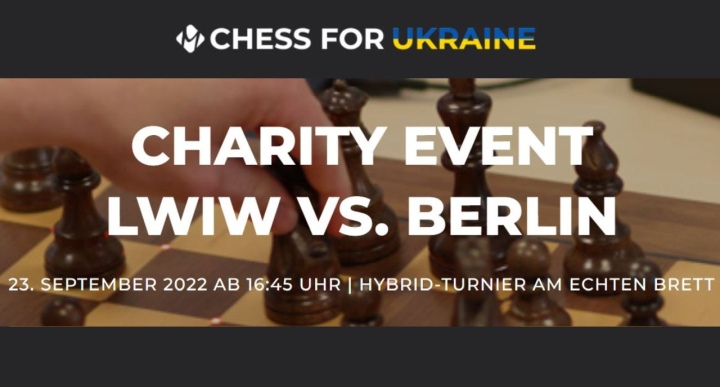 On Friday, September 23, the Ukrainian city of Lviv and the German capital Berlin will play a charity match. The one-day competition will bring together some of the most famous personalities of German and Ukrainian chess without them meeting directly, as it will be held in a hybrid format.
Grandmaster Niclas Huschenbeth will lead the Berlin team, while Volodymyr Vetoshko will be his counterpart on the Ukrainian side. Ukrainian-born Angelika Valkova will host the match and stream it live on her Twitch channel, supported by German IM Georgios Souleidis aka "The Big Greek". The start time is 16:45 Berlin time.
The lineups:
Berlin
Niclas Huschenbeth (GM, 2572)
Steve Berger (IM, 2451)
Alexander Lagunow (IM, 2360)
Clemens Rietze (FM, 2360)
Lviv
Volodymyr Vetoshko (GM, 2450)
Oleg Romanishin (GM, 2414)
Mikhail Kazakov (GM, 2400)
Margeir Petursson (GM, 2447)
This match is dedicated to supporting UNICEF's "Help for Children from Ukraine" fundraising campaign. "We have chosen this organization because its work is very close to our hearts. Both we and UNICEF are happy about your support because really every contribution helps!" write the organizers on the landing page of the match, www.hybrid-chess.de.
The link to the donations page:
https://www.betterplace.org/de/fundraising-events/42762-chess-for-ukraine-wir-spielen-du-spendest