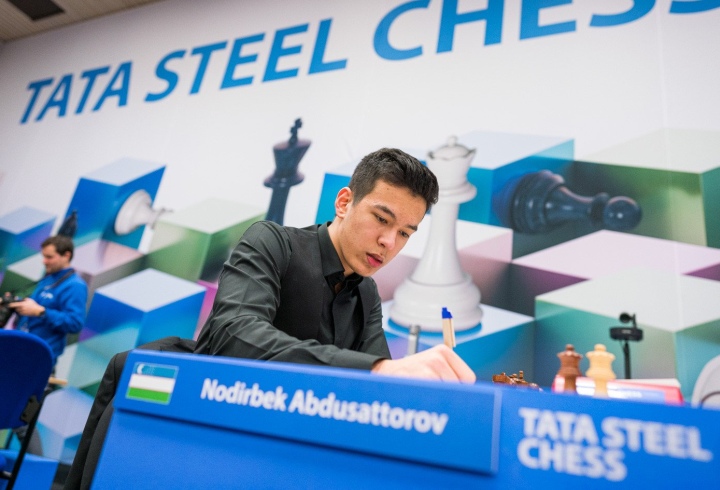 Nodirbek Abdusattorov preserved his half-point lead over Anish Giri heading into the final round of Tata Steel Masters. Richard Rapport and Parham Maghsoodloo beat Ding Liren and Arjun Erigaisi, respectively, but these results did not affect the standings on the top.
Wesley So – Nodirbek Abdusattorov ½–½
The American GM went for an early queen exchange in the Queen's Gambit Accepted but did not achieve even a slight advantage. Moreover, after Nodirbek sacrificed a pawn, Wesley had to demonstrate accuracy in defence to reach a draw.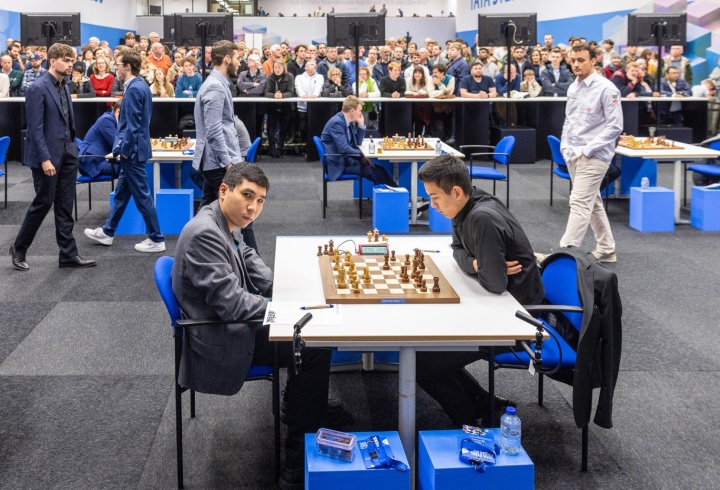 Jorden Van Foreest – Anish Giri ½–½
Van Foreest introduced another novelty, this time on the white side of the Ragozin Defence (8.h4) and then, following his preparation, sacrificed an exchange. Playing on his own, Giri maintained the balance up to move 26, when he gave his compatriot a chance to get a decisive advantage.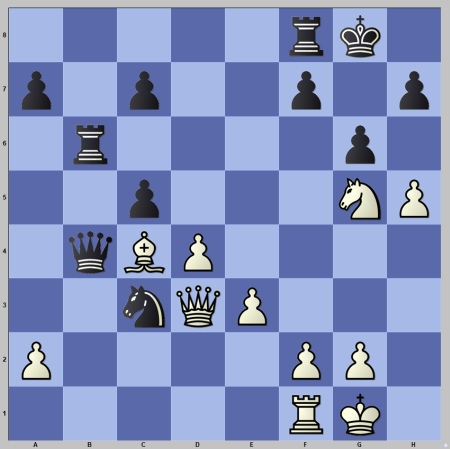 After 26. Rc1 Na4 27. Qe4 cxd4 28. Nxf7 Rf6 29. Qe5 R6xf7 30. 30. h6 White dominates, but Jorden opted for 26. dxc5 and emerged better but with no straight win in sight.
Just a few moves down the road, White had another chance 29.Nxf7 followed by the quiet move 30.Kh2! but it was really hard to find for a human being.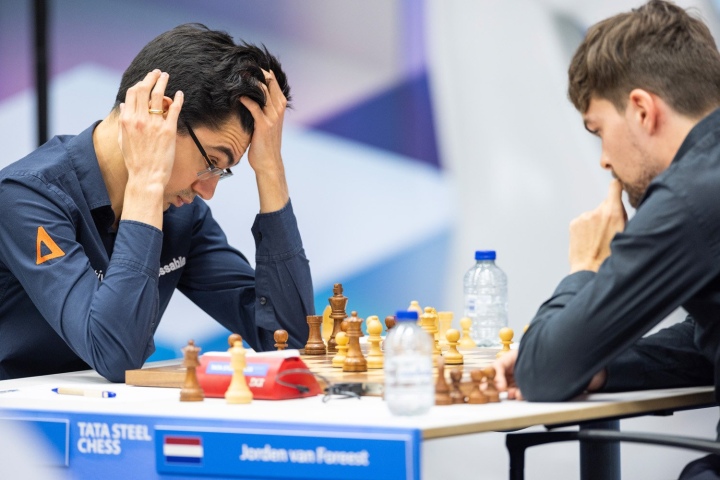 As played, Black managed to exchange the queens liquidating into an endgame with an extra exchange for which White had more than sufficient compensation. Van Foreest pushed to the very end, but Giri demonstrated great accuracy in defence and sealed a draw on move 79.
Magnus Carlsen – Praggnanandhaa R ½–½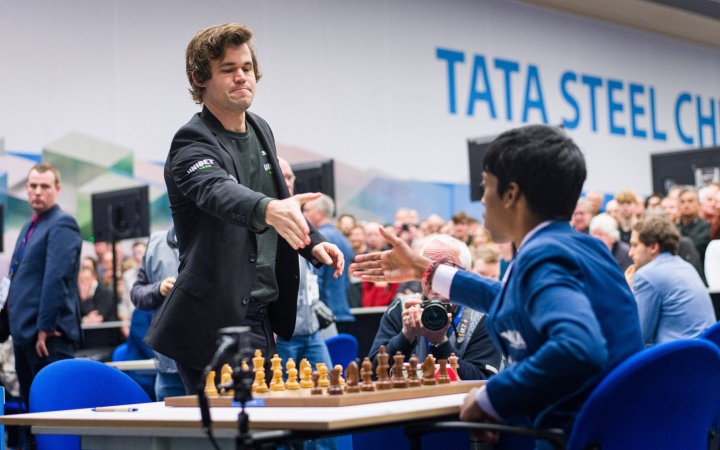 The Indian youngster opted for a rare 9…g6 continuation in the Queen's Gambit Accepted but found himself in an inferior position. Magnus skillfully built up pressure and on move 22, had a chance to win a pawn but missed this opportunity.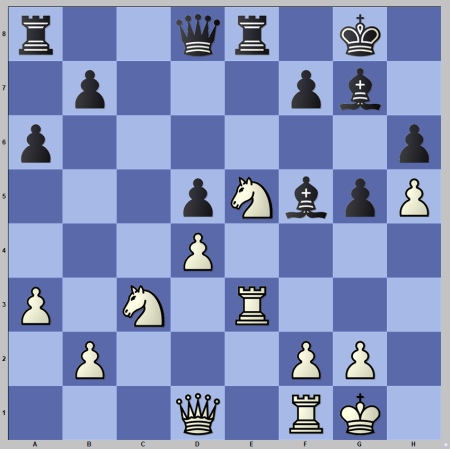 After 22. Nxf7! White is clearly better, as 22…Kxf7 fails to 23. Rf3 Qd7 24. Qd3 Kf6 25. g4, but Magnus preferred 21.Rfe1 and also got an advantage, but not as big.
Just a few moves later, the World Champion captured the b6-pawn but allowed his opponent to equalize with a series of precise moves. After very exciting complications, the opponents liquidated into a queen endgame where Praggnanandhaa defended well and scored a half-point.
Fabiano Caruana – Vincent Keymer ½–½
In the Ruy Lopez, Keymer surprised his opponent with a new move 11…d5, immediately striking in the center. In the ensuing complications that required precise calculation White got a chance to get the upper hand with 25.Bc6, but Fabiano opted for a more natural 25.Rb1, after which Black was out of danger. The opponents shook hands right before reaching the time control.
Gukesh D – Levon Aronian ½–½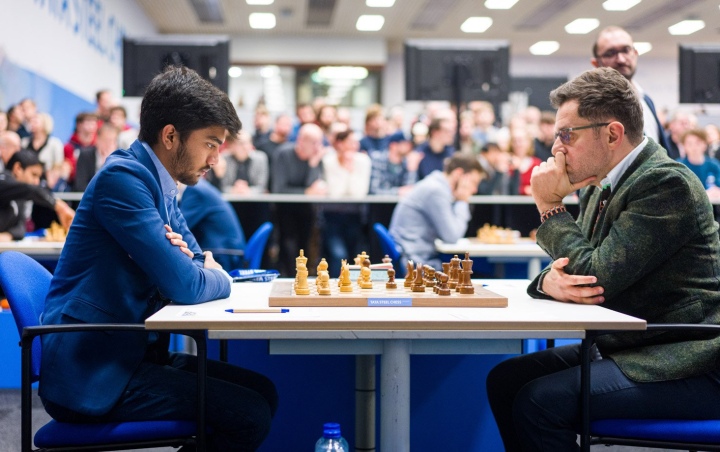 The game saw another Ragozin Defence in which the opponent stepped into uncharted territory early on. Levon sacrificed a pawn in a balanced position with so-called hanging pawns and transposed into a rook endgame in which he had to demonstrate accuracy. Black was doing fine for a while, correctly sacrificed another pawn to get a passer on the kingside but mistakenly advanced it too early and found himself on the brink of defeat.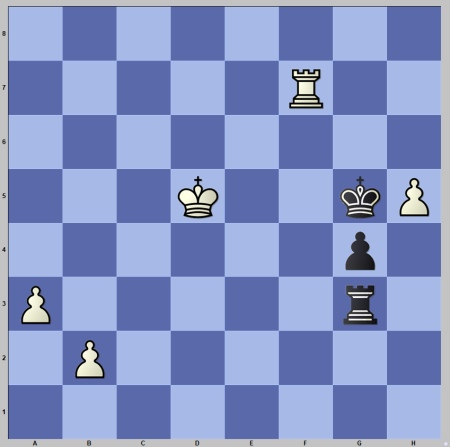 After hard-to-find sequence 52. Rf1 Rb3 53. Rh1 Rh3 54. Rg1 Kxh5 55. a4 Rb3 56. Rb1 White wins, but luckily for Aronian, Gukesh opted for a natural 52.Kc4 and allowed Black to get a sufficient counterplay.
Gukesh got another chance after Levon protected his passer from behind instead of from the side but did not seize this opportunity. In the end, White emerged two pawns up but had to settle for a draw.
Richard Rapport – Ding Liren 1-0
Rapport went for 4.Qxd4 on the white side of the Sicilian Defence but did not get anything from the opening. After trading the queens, the Black opened up the center and was doing OK, but closer to the time control, Ding started making inaccuracies culminating with 36…Bf3? that cost him an exchange and eventually the game.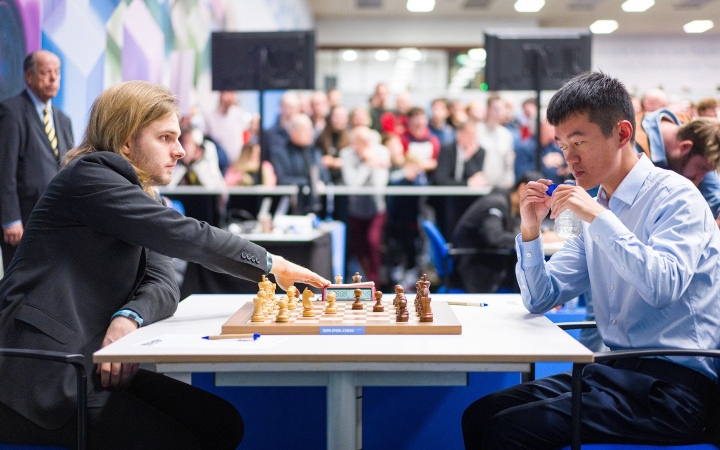 Parham Maghsoodloo – Arjun Erigaisi 1-0
The opponents followed a long theoretical line in the Gruenfeld Defence in which the Iranian essayed the new move 19.Qb4 instead of 19.Rxb7 played before by Sevian and Grischuk. Arjun maintained balance for a while, but his decision not to trade queens was a step in the wrong direction. The position remained equal, but Black had less room for error. After White put pressure on the f7-pawn reacted with 30…f5 that cost him an exchange. In the subsequent play both sides did not play optimally, but eventually, Maghsoodloo converted his extra material into a full point.
Standings after Round 10: 1. Nodirbek Abdusattorov – 8; 2. Anish Giri – 7.5; 3-4. Magnus Carlsen and Wesley So – 7; 5-7. Levon Aronian, Fabiano Caruana and Richard Rapport – 6.5; 8. Parham Maghsoodloo; 9. Rameshbabu Praggnanandhaa 10-12. Ding Liren, Gukesh D and Jorden Van Foreest – 5; 13. Vincent Keymer – 4.5; 14. Arjun Erigaisi – 4.
Photos: tatasteelchess.com, Jurriaan Hoefsmit and Lennart Ootes