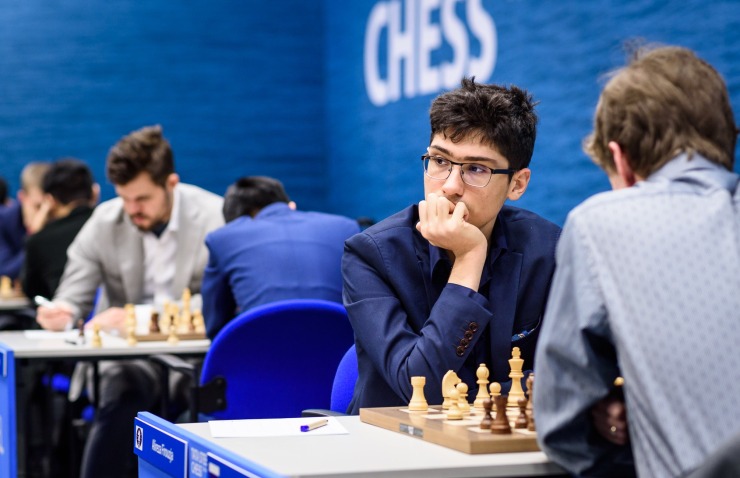 Black has yet to score a victory after three rounds in Wijk aan Zee, but even another White's 3-0 sweep in Round 3 of Tata Steel Masters was eclipsed by the clash at the top of the leaderboard - Alireza Firouzja became the sole leader after defeating Vladislav Artemiev.
It looks like the outcome of the key game of the round was decided by better home preparation of the youngster. Artemiev chose the Caro-Cann Defense once again and Firouzja reacted with one of the sharpest lines 3.e5 Bf5 4.h4 h5 5.c4. Alireza left his b2 pawn hanging, but it was really risky to take it - Vladislav didn't dare and started spending a lot of time on every move. Till the move 15 the game followed the footsteps of Sutovsky - Maria Muzychuk encounter, convincingly won by FIDE General Director in 2018. Artemiev deviated with 15...Qd8 but his position already looked very suspicious. After the e5-e6 breakthrough, Black was in dire straights with his king completely exposed. The Iranian prodigy, playing under FIDE flag, missed a few opportunities to finish the game quicker, but the result was never in doubt.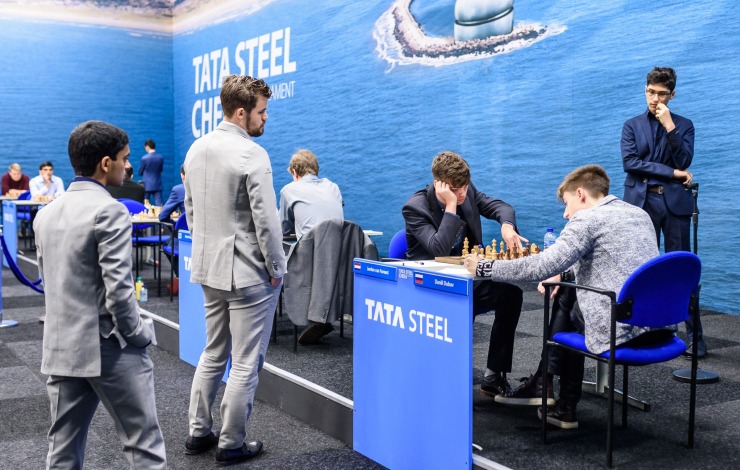 Firouzja is sensationally leading the event, but Jorden van Foreest's performance is probably even a bigger surprise. In Round 3 he scored his second win - this time against Daniil Dubov. Jordan's unassuming 3.c3 in the Sicilian indicated that he wasn't striving for an opening advantage in the Sicilian, but Daniil probably underestimated the danger of White's "c" and "d" pawns advance - he started tanking after move 20, but only managed to cause some turmoil while objectively his position was only getting worse. The Dutch GM remained unfazed and easily navigated through muddy waters to a victory.
Fabiano Caruana is demonstrating some excellent chess at the early stage of the tournament and is just half a point behind the leader. Yu Yangyi played his favorite Petroff Defense against World #2 but became a victim of Caruana's impeccable understanding of chess. His pawn advances on both sides (13.b4 and 16.g4) looked somewhat speculative, but Fabiano managed to gradually deny Black of any counterplay and secure space advantage. Even after Caruana won a pawn, the outcome seemed unclear, but he confidently thwarted all Black's attempts and transposed into a completely winning pawn endgame. Very well-played, maitre!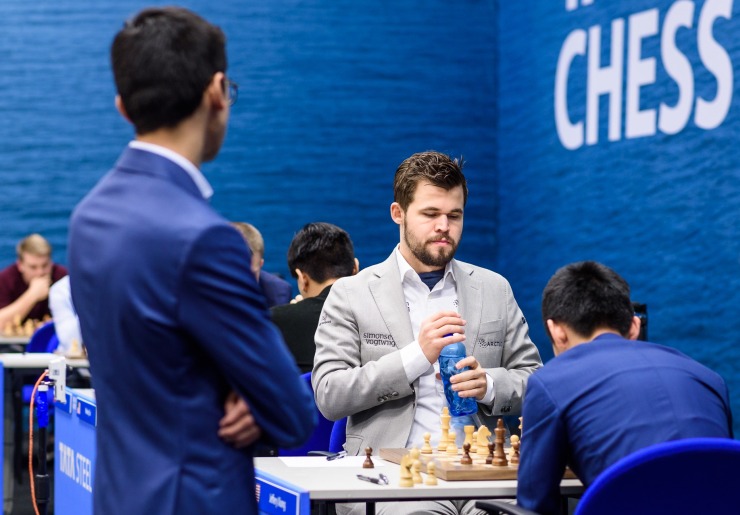 The other four games ended in draws. World Champion Magnus Carlsen is still out of his element - his attempt to fight for an advantage in a game against Jeffery Xiong looked completely unfounded and pretty soon he had to give up a pawn and switch to working for a draw. Carlsen was never losing but he is probably very disappointed with how the event has started for him. Magnus had no winning chances in any of the first free games and the fact that he is close to beating Sergey Tiviakov's record in the number of the games without a loss is hardly satisfying him.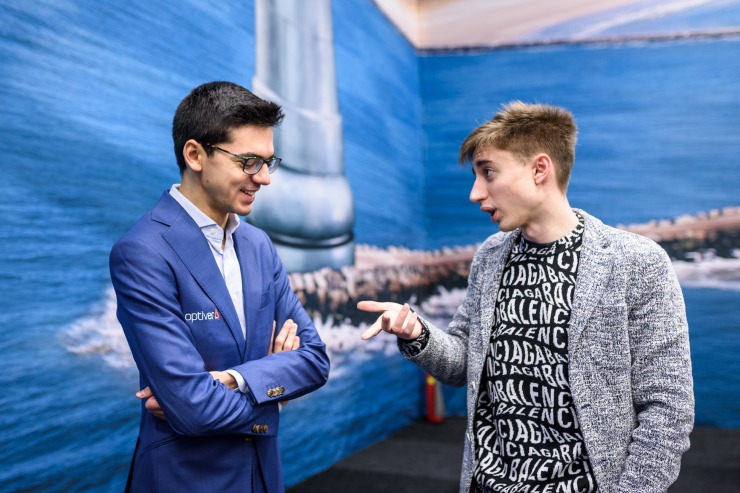 Wesley So played against Nikita Vitiugov very accurately (keeping in mind that the Russian had knocked him out of the World Cup this September) and a draw looked a very logical outcome. Vishwanathan Anand was clearly better after the opening against Anish Giri. The Dutchman looked really uncomfortable in his chair, but probably yesterday's drama took its toll on the Indian - he was too quick with 19.d5 (according to a chess engine, 19.Qb3 was a better move) and then offered a draw in a position where he still had real chances. Vladislav Kovalev obtained a comfortable position against Jan-Krzysztof Duda, and if not for the disastrous start he would have probably played a promising 13.Nb5. Instead, he settled for a calmer continuation and Duda defended with relative ease.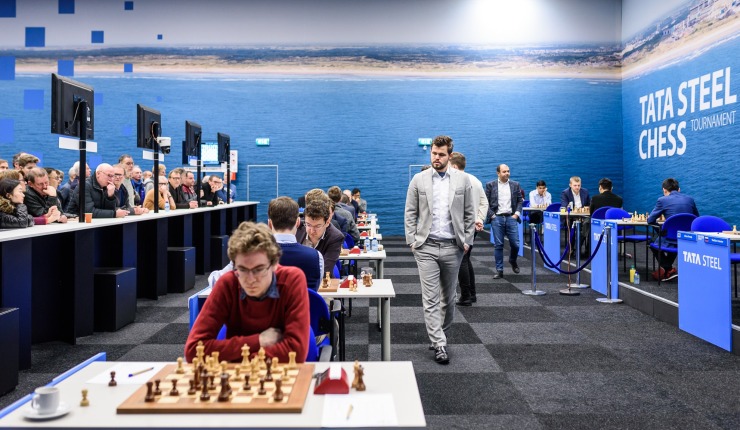 Official site: https://www.tatasteelchess.com/
Photo: Alina l'Ami
Tata Steel Masters 2020 Standings after Round 3:
1. Firouzja - 2½;
2-5. Xiong, So, Caruana, Van Foreest - 2;
6-10. Artemiev, Dubov, Duda, Giri, Carlsen - 1½;
11-12. Anand, Vitiugov - 1;
14. Yu Yangyi, Kovalev - ½.