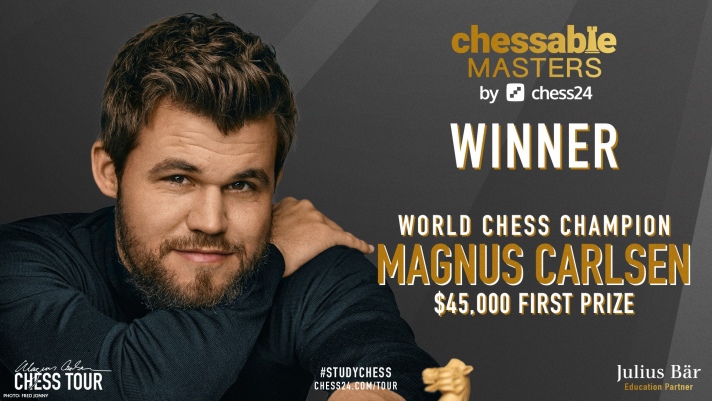 Magnus Carlsen is the first Chessable Masters champion after Anish Giri's fierce fightback derailed.
The World Chess Champion reaffirmed his incredible dominance of the online game as he pocketed a cool $45,000 top prize and a second Magnus Carlsen Chess Tour title.
Afterward, Carlsen paid tribute to his "impressive" opponent who squandered three gilt-edged chances to get back in the match. "Frankly, he just played much better than I did in the last three games," Carlsen said.

Carlsen had gone into the elite event featuring eight of the world's top 10 after a being dumped out of the previous tour stage, the Lindores Abbey Rapid Challenge, in the semis. But Carlsen roared back to top his group in the Chessable Masters preliminary stage and then en route to the final he destroyed the world numbers 2 and 3 without losing a set.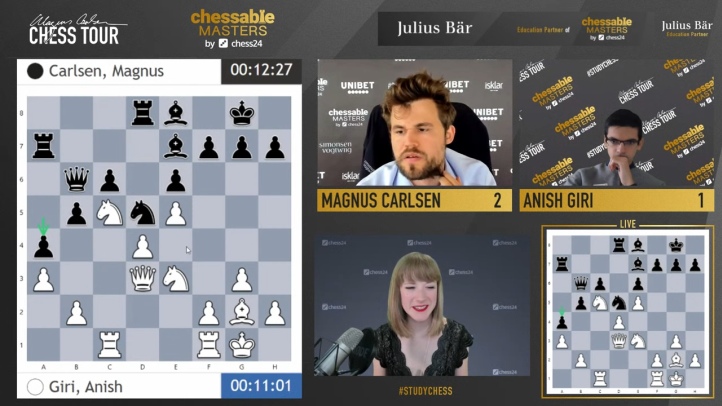 In the final, a red hot Carlsen faced his arch-rival Giri who has publicly goaded the champion repeatedly on Twitter - and even during their matches.
Day 1 saw Carlsen steam ahead before a Giri comeback took the set to a tiebreak, which the champion eventually won to go 1-0 up.
Today's set however followed a different path. In the opening game, Carlsen showed he was in top gear as he crushed Giri with ominous ease. Magnus, with victory now in his sights, then had huge let-offs in the second and third games as both finished in draws. Giri had winning chances but didn't take them.
It left Anish going into the final game 2-1 down and needing a win to take the set to tiebreakers. He started very strongly but it all fell apart for the Dutchman as - for the third game in a row - he somehow let Carlsen back in to draw. It was a heartbreaking end to the tournament for Giri who came so close to getting back into it.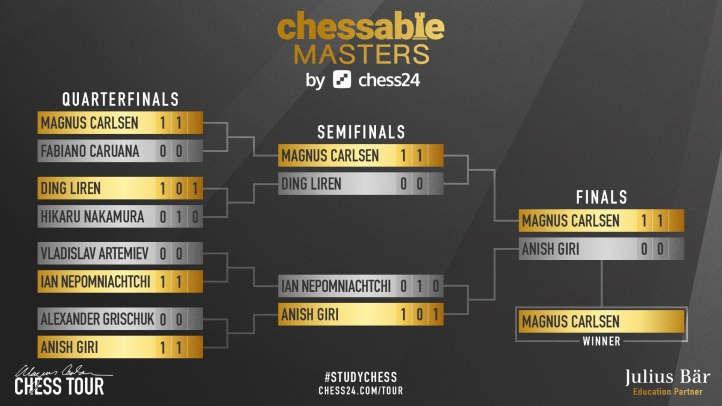 He said afterward: "It was a huge pity... I relaxed in the end."
As the winner, Carlsen picks up $45,000 while runner-up Giri wins $27,000.
Defeat in the final does not mean Giri goes through to the tour's $300,000 Grand Final in August, despite Carlsen already having qualified.
Based on tour standings, the American Hikaru Nakamura is now in pole position to occupy one of the four spots. There is one leg to go, the Legends of Chess which starts on July 21.
About the tournament
The event, broadcast live on chess24, is the next stage of the Magnus Carlsen Chess Tour which carries a total prize pot of $1 million, a record for the online game.
The Chessable Masters, which runs until July 5, is being put on in association with Chessable and the tour's Education Partner, leading Swiss private banking group, Julius Baer.
Players were split into two groups (A and B) of six for the preliminary stage before eight progressed to the knockouts.
Highlights English:
https://drive.google.com/drive/folders/1dpG2c-dmqs58tSDSZvxzGNqzgquJyO0g?usp=sharing
FOR MORE INFORMATION:
Leon Watson
leon@chessable.com
+447786 078770