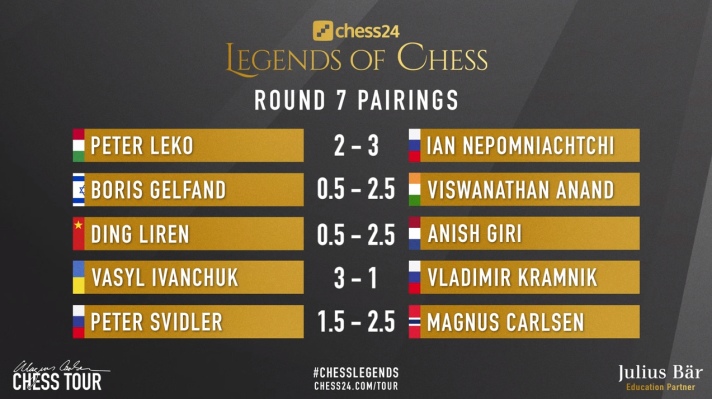 Vishy Anand was in vintage form as he tore apart fellow legend Boris Gelfand today in the $150,000 chess24 Legends of Chess.
The 51-year-old Tiger of Madras gave his Israeli opponent a 2.5-0.5 mauling to polish him off with a game to spare.
The match was a replay of the pair's 2012 world title match which went to rapid games after the classical section before Anand retained his crown. This time, however, Gelfand was never in the running.
Anand has started slowly in this event yet the legend from Chennai picked up points in the last two rounds after taking his opponents to Armageddon tiebreaks.
Today Anand improved further and picked up a three-point maximum.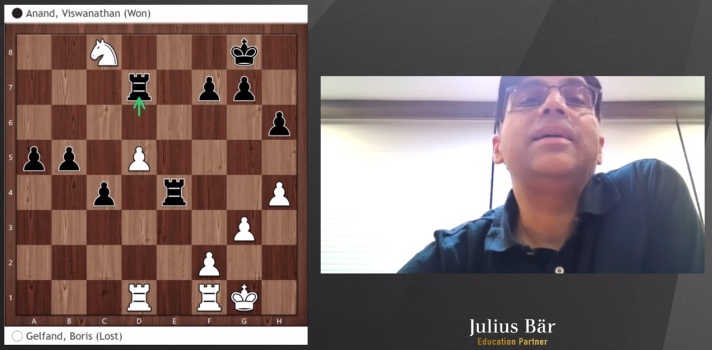 He said: "Obviously it's not been quite so disastrous the last three days as the first three, but it's nice to get a win."

He added: "I simply forgot about Armageddon because I forgot what it's like without increment... In normal chess the clock can intervene - in Armageddon the chess can intervene."
Meanwhile, Carlsen, the reigning World Champion, continued his imperious form to record a seventh straight match-win against Russia's eight-time champ Peter Svidler.
Carlsen's first two games against Svidler were drawn but in between the champion found time to tweet his congratulations to the winner of the Premier League fantasy football.
In a reply to his rival Aleksandar Antonov, the Norwegian said: "Bossed it on the final day. Congrats, TooGood indeed!"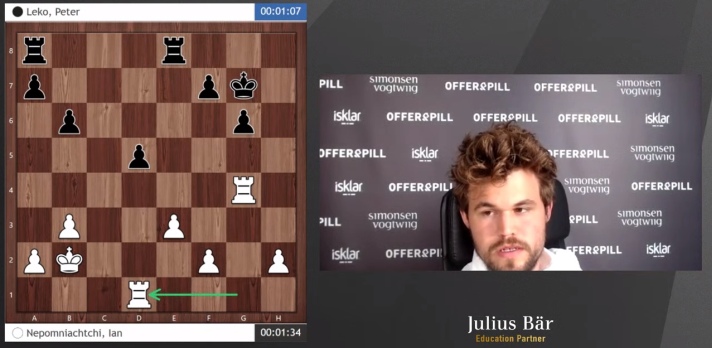 Carlsen, who was in with a chance of winning, finished joint 11th in the fantasy football - but is going far better in chess.
After a third draw, Carlsen hit Svidler in the fourth game with the White pieces to take the match 2.5-1.5. It was hard on Svidler who battled hard.
Meanwhile, the in-form Ian Nepomniachtchi - who has been Carlsen's biggest threat in the tournament table - was taken to an Armageddon by Peter Leko.
But Leko was outclassed in the faster tiebreak match as Ian picked up 2 tournament points to keep in touch with Carlsen.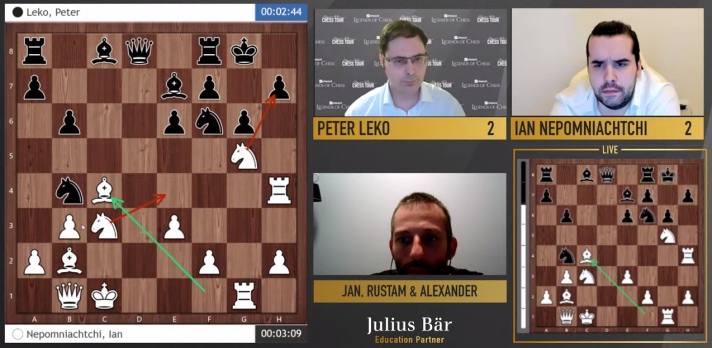 In the other matches, mercurial legend Vasyl Ivanchuk beat former world champ Vladimir Kramnik 3-1.
Ding Liren's woeful form, punctuated by disconnections because he is playing in China, continued as he went down 2.5-0.5 to Anish Giri.
Today was day seven of the round-robin battle for four places in the Legends of Chess semi-finals.
The event, the fifth leg of the $1 million Magnus Carlsen Chess Tour, runs until August 5 and will carry a $150,000 prize fund.
The winner will scoop a top prize of $45,000 and the last of the coveted spots in the tour's Grand Final in August.
Tournament rules and schedule
The time control is a rapid 15m + 10s from move 1 played in the chess24 Playzone. There will be two stages starting with a 10-player round-robin (July 21-29) with each round consisting of 4-game matches and Armageddon tiebreaks if needed.
The top four will advance to the knockout semi-finals (July 31-August 2) and two will go through to the final (August 3-5). July 30 is a free day. All sessions will begin at 16:00 CEST.
Highlights in English:
https://drive.google.com/drive/folders/1Rmx6IFrFYxYPrNhZVtxZbRWTiMAIICvc?usp=sharing
New files at around 23.00 CEST
Rough edit highlights:
https://drive.google.com/drive/folders/1SItw6DwCyoTsZ0WiVAjw4BkVHEaGQFDI?usp=sharing
New files ready around 02.00 CEST
FOR MORE INFORMATION:
Leon Watson
leon@chessable.com
+447786 078770