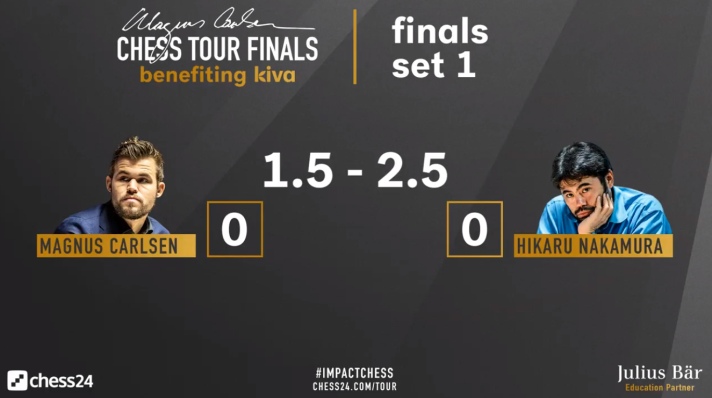 The battle to be crowned the king of online chess got off to a stunning start today as US star Hikaru Nakamura took an early lead against World Champion Magnus Carlsen.
The dream final, which closes the $1 million Magnus Carlsen Chess Tour, sees the two titans of the online game go head-to-head in a best-of-seven. Nakamura, the only player so far to have knocked Carlsen out of an event on his own signature tour, brought his A-game on day 1 as he pulled off a high class 2.5-1.5 win.
The American appeared in full control throughout as he won game 2 to go ahead and then with scored draws in games 3 and 4 to end the day 1-0 up in sets.
Carlsen, whose tight semi-final finished a day later than Nakamura's, just never got going and, in fact, it could have been even worse for Norway's world number 1.
Game 3 was a big save for Carlsen as he escaped with a draw. In the fourth, Carlsen threatened but Nakamura kept him under control.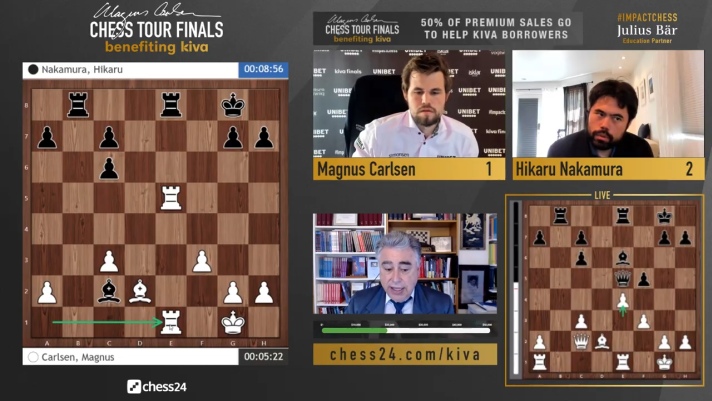 Nakamura said: "It was a tough match. When I won the second game I figured at the very least I would get to tiebreaks.
"The result seems smooth but the way the third game went messed up the whole rhythm because I was close to winning at a couple of points in that game and when I didn't win that game it was a big swing of emotions.
"But for the most part, I thought I played well, and even in the fourth game, when it was pretty bad, I always thought there would be chances of a draw."
Carlsen and Nakamura have a long-standing rivalry. In 2010 they duked it out all night over 40 games in a private grudge match in Moscow.
Three years later Nakamura appeared to put noses out of joint when he likened Carlsen to Sauron from Lord of the Rings.
For many years Nakamura failed to beat Carlsen in an over the board classical match before eventually breaking the spell at the 30th attempt in 2016.
The event carries a total $300,000 prize pot and is the climax of Carlsen's $1 million signature tour, the richest and most prestigious online chess event ever.
Supporting Kiva
Broadcaster chess24 has pledged 50 percent of new Premium memberships bought during its Tour Final to Kiva's Global COVID-19 Response fund that aims to raise at least $50 million for entrepreneurs and small businesses impacted by COVID‑19.
During the event, chess24 and Kiva will highlight stories where chess has changed people's lives under the official tournament social media hashtag #ImpactChess.
Viewers are encouraged to engage with the Tour Final and support small businesses impacted by COVID-19 by signing up for a premium subscription here.
More details on the Finals

The Magnus Carlsen Chess Tour was devised by Norway's World Champion and chess24 after traditional over the board chess was halted suddenly due to the COVID-19 pandemic.
The Tour Final kicks off on August 9 and runs until August 20. It is the culmination of four elite-level super-tournaments that began in March as a way of getting chess started again while other sports worldwide were prohibited.
The first four stages of the first Magnus Carlsen Chess Tour were:
Four players have qualified for the final crescendo of chess after being the best performers during the preceding tour events. The winner of the Tour Final, which has a total prize pot of $300,000, will scoop a top prize of $140,000 and the title of Champion of the Magnus Carlsen Chess Tour.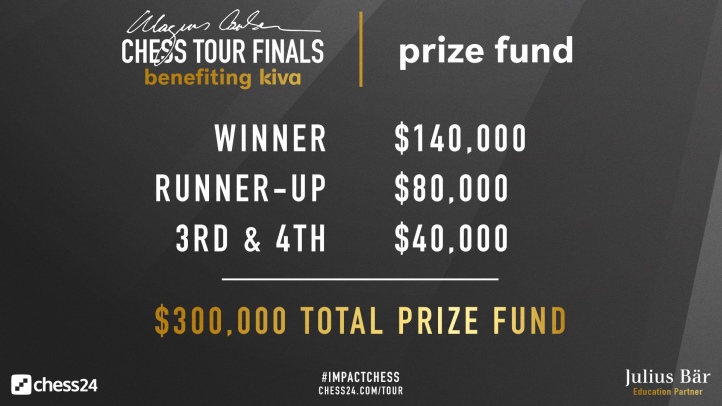 Tournament rules and schedule
The Tour Final will be a 12-day event running from August 9 to August 20. Time control is a rapid 15m + 10s from move 1 played in the chess24 Playzone.
The semi-finals of the Tour Final tournament will be a best of 5 four-game mini-matches. The final will be a best of 7 mini-matches. As usual, play will start at 16:00 CEST.
Highlights English:
https://drive.google.com/drive/folders/1_QSmtZoiwL24EGuZSEmi1UR5j4hInR0u?usp=sharing
New files at around 23.00 CEST
Rough edit highlights:
https://drive.google.com/drive/folders/12mwKPkAfzeyfzd1Gay-FU5dJ8uU6OXMY?usp=sharing
New files ready around 02.00 CEST
FOR MORE INFORMATION:
Leon Watson
leon@chessable.com
+447786 078770