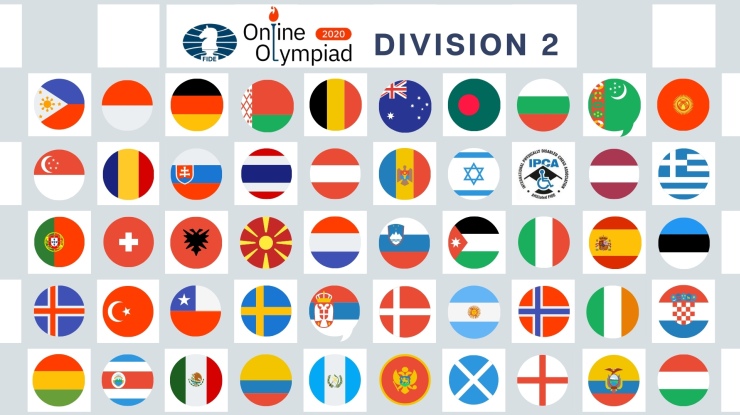 The Online Olympiad formula by FIDE is a real catch. Indeed, many strong GMs who got into action yesterday rarely take the stage as their teams usually don't fight for the top positions. And to think that by the fourth tournament weekend we have already seen many exciting games and unexpected outcomes. The first rounds in Division 2 pleased those fans who treat chess as an art with many games of exceptional quality.
Pool A
Since nobody expected many crushing defeats at this stage, the first round's results came as a surprise. Team Australia lead by a young GM Anton Smirnov started with 12 straight victories whitewashing even Belgium. Despite a promising start, Australia has not secured a spot in Top Division yet – in Round 3 this team fell to Bulgaria that turned in even more impressive performance and tied for the lead with clear favorite team Germany.
Australia most likely will fight for the third spot with Indonesia and Philippines. These two Asian teams already faced each other with Philippines coming on top.
Turkmenistan also made a splash in the starting rounds – the team nearly wrestled a match point from Germany losing by a minimal margin and then somewhat unexpectedly defeated Belarus. Unfortunately, the Belorussian players performed badly on the first day, losing two matches out of three – apparently, the representatives of this chess power are having a hard time concentrating on the games these days.
Pool B
This pool produced the most unexpected leader so far. Although Slovakia did not play with most dangerous opponents, 6 points out of 6 came as a strong bid for the top-3. With no formal leaders playing yesterday, 62-year old GM Lubomir Ftacnik (pictured below) was shining on the first board. The veteran won all his three games, creating an impressive positional masterpiece in the encounter with FIDE Executive Director and the leader of team Moldova Victor Bologan (check it out here).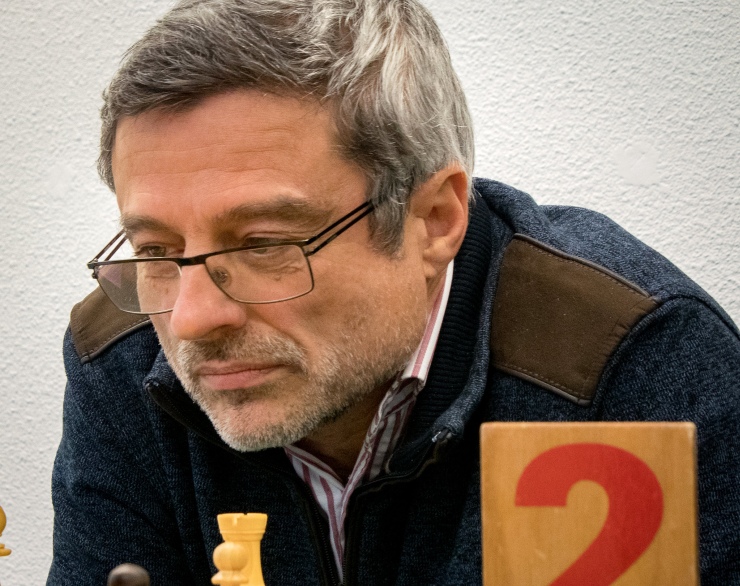 Photo: Frans Peeters
The pool favorites Romania and Greece along with Latvia (5 points each) are close behind the leader. Romania and Greece scored confident victories in Rounds 1 and 2 and then drew their match in Round 3. There has been no reason question these teams' advancing to Top Division so far. Meanwhile, Latvia split points with Israel. It is fair to assume that these two teams plus Slovakia will fight for the third spot in Top Division.
Speaking of the teams qualifying from lower divisions, one might have expected more from Singapore. On the other hand, Thailand has picked up points in every match although not enough for even a single draw. One of the discoveries of Online Olympiad Prin Laohawirapap scored two victories and even when losing stayed true to himself:
Prin Laohawirapap - Ilia Lipilin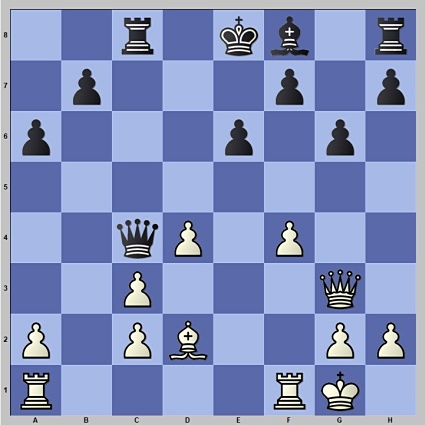 White has a nice play against Black's king that is stuck in the center. Laohawirapap opted for the sharpest continuation: 19.f5!?, and after 19...gxf5 White should have played 20.Qe5, with a good position, but the young player is carried away by a flashy but unsound idea - 20.Rxf5?? exf5 21. Qe5+ Kd7 22. Qxh8 Bh6 (apparently the youngster missed this move) 23. Qxh7 Bxd2 24. Qxf5+ Qe6, and Black converted his extra piece.
Pool С
The biggest story in this pool is a poor performance by the highest-rated player in Division 2 and the leader of team Netherlands Anish Giri, who scored only a half-point in three games. In a short interview during the livestream Anish said that he was having many distractions these days and could not concentrate on the game. The leader's result affected the overall team performance – Netherlands is outside the top-3 with four points. Moreover, in the match with Italy, Netherlands was lucky to close the two-point gap.
Spain and Italy came atop the standings, although both teams lost points along the way. As mentioned above, Italy drew with team Netherlands, whereas Spain conceded a point to a very tenacious team Slovenia. The Slovenian players who already faced off all the favorites have a good shot for a spot in the top-3; on the contrary, Albania's high position in the leaderboard is misleading – this team played only with the underdogs.
Pool D
In this pool, more experienced teams are simply ruthless in the matches with qualifiers from Division 3. We saw crushing scores in many matches even in the clashes of the teams with a comparable average rating. As a result, it became evident that only five teams are running for three qualifying spots: Turkey, Serbia, Norway, Croatia, and Sweden.
Team Turkey that conceded only 2.5 points in three matches looks the most powerful. On the other hand, Turkey is yet to play key matches. Serbia already prevailed in a very important encounter with Croatia 3.5:2.5. The Croatian players, in turn, crushed Sweden 4.5:1.5.
Somewhat unexpectedly, Denmark is at the tail-end. The team is not showing its best, but in all fairness, the fortune turned away from the Danes:
Mads Andersen – Winston Darwin Cu Hor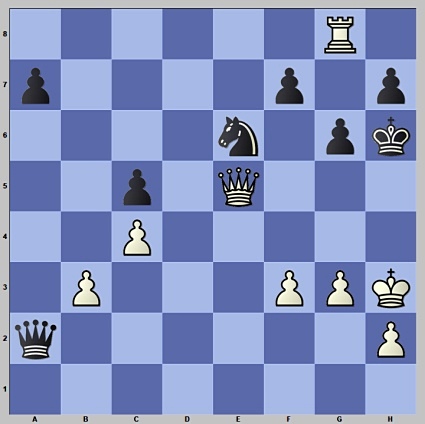 Being up an exchange Denmark's leader Mads Andersen had many ways to victory in the game with his opponent from Guatemala Winston Darwin Cu Hor, but decided to to rush off to complications. This plan appeared to have worked – there is no defense against checkmate after 39.Qf6. Instead, in a terrible time scramble White played an unthinkable 39.g4??, but after 39...Qf2! that was White who got checkmated – there is no way to prevent a deadly knight-check from g5.

Pool E
Before the event many experts pointed out that Hungary and England stood out in this pool as marquee teams with the highest average rating – Hungary is a three-time champion, whereas England came second after the invincible team USSR three times in a row. Indeed, each team did win three matches on the first day, but the scenarios were quite different.
Hungary had no problem whatsoever brushing the opponents aside (three 5:1 victories). In Round 3 match against Argentina the youngest Hungarian GM Adam Kozak created a real masterpiece:
Tomas Kapitanchuk - Adam Kozak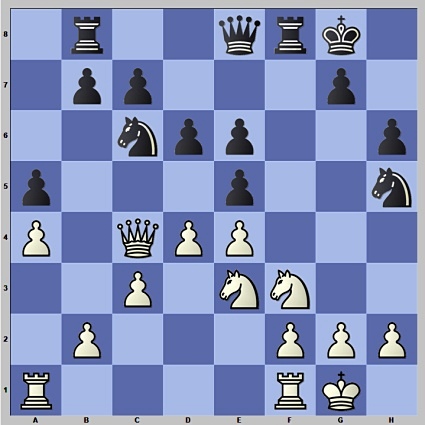 White has just carelessly played 15.d4. The punishment came quickly: 15...Rxf3! 16. gxf3 Nf4 17. d5 Qh5!! 18. dxc6 Qxf3 19. h4 b5 (simpler was 19...bxc6, but being a rook down Black does not want to lose momentum) 20. Qb3 (The Argentinean did not find the most stubborn continuation but became a co-author of a spectacular finish) 20...Rf8! 21. Qd1 Ne2+ 22. Kh2 Rf4 23. Ng2 Rg4 24. Rg1 Qxg2+! 25. Rxg2 Rxh4#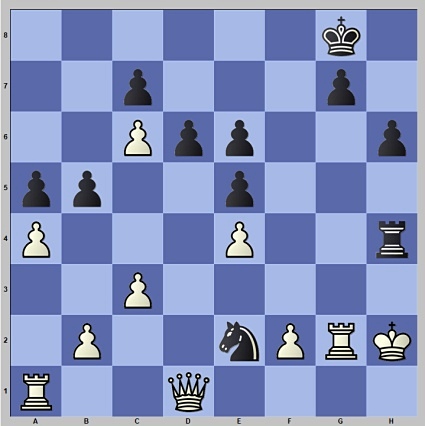 Any player regardless of his or her titles and rating dreams about playing such a game. Bravo, Adam Kozak!
On the contrary, on Malcolm Pein's 60th anniversary England had to grit out the victories – the team beat Argentina and Columbia by a minimal margin. In the latter match, we saw a dramatic climax – after going through a losing position Michael Adams snared his opponent's king into a mating net whereas Harriet Hunt being in time-trouble lost an absolutely winning rook endgame. As a result, England found itself in the third position behind Hungary and Ecuador. The South American team can boast of very good players on women's boards and have a good shot for one of three spots, although the decisive matches will be played on Saturday and Sunday.
Key Saturday matches:
Pool A - Philippines - Australia (Round 6)
Pool B - Romania - Slovakia (Round 4)
Pool C - Spain - Italy (Round 4)
Pool D - Croatia - Turkey (Round 4)
Pool E - Ecuador - England (Round 6)