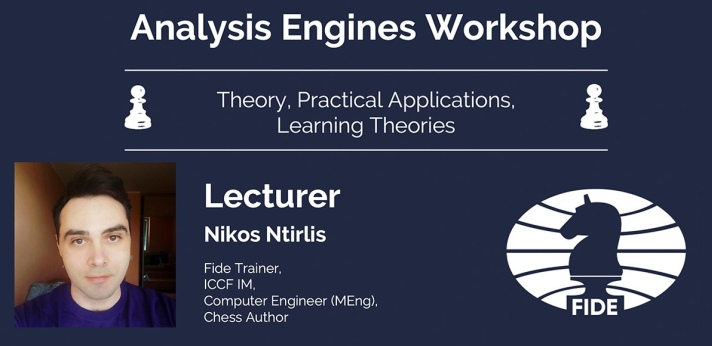 Technology advances fast, and chess trainers need to have a good grasp of the latest developments in many fields: chess engines, databases, different learning platforms... "While logic and experience can get someone far, there is currently a huge gap of knowledge of what really the chess engines can and what they cannot do, which deprives the trainer to use them in their full potential", explains Peter Long, Secretary of the Trainers Commission (TRG).
To address this need, the TRG Commission has organized several 1-day seminars dedicated to explaining to chess coaches how to make the most of all these tools in their day-by-day.
The lecturer is Nikos Ntirlis, a renowned chess author and a highly specialized professional in the fields of data analysis, adult learning theories, and sales engineering.
The first of these seminars took place on August 29, but chess coaches still have the chance to join two of the upcoming ones: on September 5, and September 12 (starting from 9 AM CET). You can find more information in the following brochure, as well as the TRG website.
https://trainers.fide.com/2020/08/03/professional-education-development-workshops-for-trainers/
https://www.dropbox.com/s/1qsr34icz0vs7qq/Analysis%20Engines%20Workshop.pdf?dl=0
E-mail for registration: trainers@fide.com