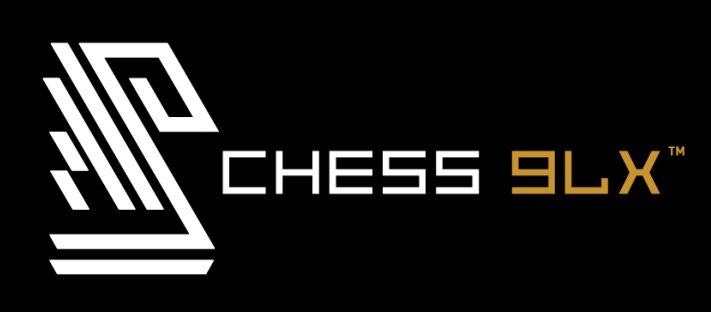 Day two of Champions Showdown: Chess9LX was action-packed. After winning all three games, Levon Aronian emerged as the new leader, half a point ahead of Magnus Carlsen, Hikaru Nakamura, and Wesley So. In the postgame interview, Aronian remarked that he spent more time preparing and doing tactics before the games today and felt that he was playing "with more passion." He still has his work cut out for him as he faces Garry Kasparov, Maxime Vachier-Lagrave, and Magnus Carlsen on the final day. With $37,500 and the title on the line, tomorrow promises to be a thriller.
Round 4
The big matchup of the round was between Hikaru Nakamura and Magnus Carlsen. The two rivals had an epic showdown just last month in the Magnus Carlsen Invitational Finals, which came down to the wire after 7 close matches and was won by the World Champion in tiebreaks. Nakamura had a big edge with the white pieces in this game, but with tenacious defense, Carlsen escaped unscathed. His joint leader, Leinier Dominguez, kept pace by making a draw with Peter Svidler in a quiet game.
Levon Aronian's first victory of the day came against the young Alireza Firouzja, who continues to struggle in this event. The Armenian star had the edge throughout the game and finished his opponent off with an attack against the vulnerable king.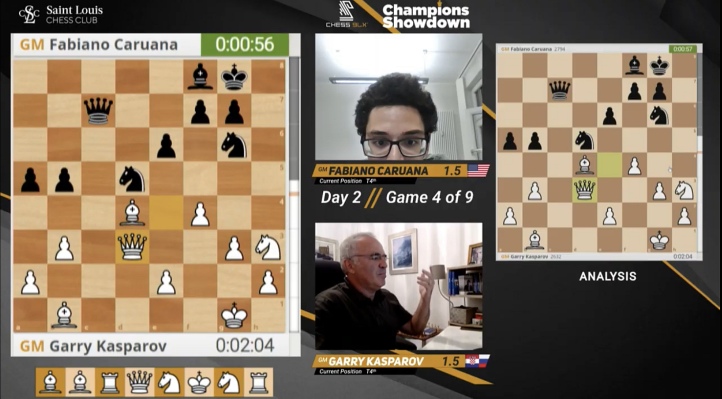 The big shocker of the round was the unintended premove by Garry Kasparov that cost him a bishop and a point. After grabbing a pawn, he meant to offer a queen exchange to his opponent Fabiano Caruana, but his queen didn't quite make it to the desired square. Kasparov tried dragging his queen, which was registered as a pre-move as his opponent moved instantly.
Maxime Vachier-Lagrave scored his first half a point in the event by building a fortress in an endgame down two pawns against Wesley So.
Round 5
In a crucial matchup, Fischer Random World Champion Wesley So defeated Carlsen with the black pieces in a flawless game, leapfrogging his opponent and taking the lead. Aronian joined the American atop the leaderboard with a 20-move one-sided win against Svidler. The duo was joined by Dominguez, who held a very difficult endgame against Kasparov.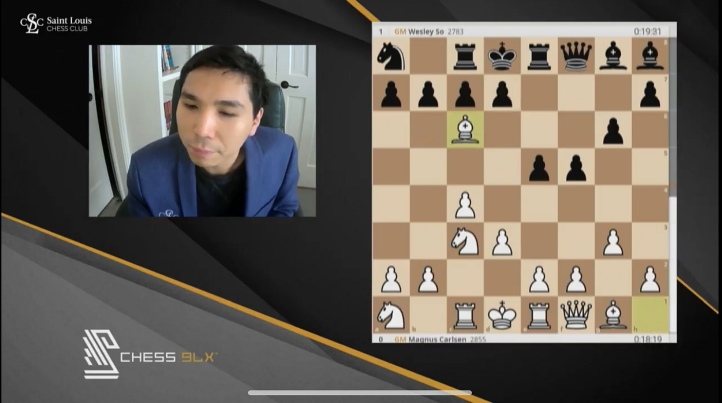 The epic battle of the round was the 95 move game between Caruana and Nakamura. Caruana was down the exchange but fought tenaciously to pose problems. Unfortunately, defending for a long time with seconds on the clock is a tall task, and the current U.S. Champion was able to eventually convert his advantage to a full point.
After a mere 10 moves, it looked like Vachier-Lagrave would score his first full point of the tournament, but his young opponent proved to be extremely resourceful. Step by step Firouzja outplayed his opponent, and when MVL blundered, the 17-year-old secured his first victory of the event.
Round 6
Aronian took the sole lead after his win against Dominguez. The American blundered an unusual and beautiful tactic and lost a pawn. He fought for 35 more moves but had to face the inevitable after Aronian forced a trade into a winning king and pawn endgame.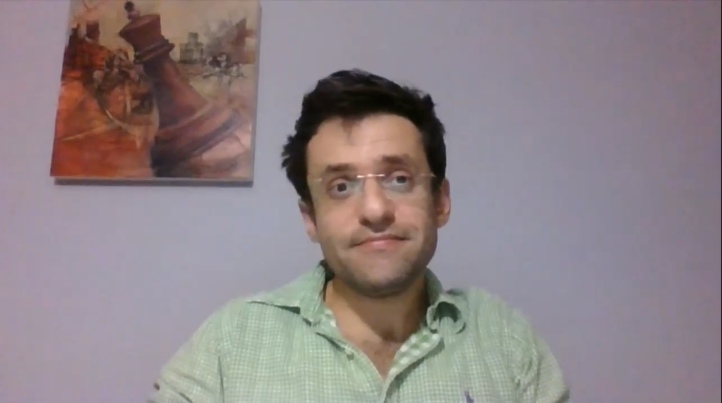 Carlsen bounced back from his loss quickly with a win over the struggling Firouzja. The youngster had to resign when he realized that he was simply down material with no counterplay.
Not only did Nakamura escape the jaws of defeat, but he also managed to turn the game around and win against Kasparov after the latter gave away his advantage then lost the thread of the game. The legendary World Champion pointed out that yesterday he had three poor positions but scored 1.5 points, while today he had 3 winning positions and only scored half a point.
So also escaped unscathed. After some thought, Caruana rejected entering what would have been a winning king and pawn endgame and erroneously chose to keep the minor pieces on the board. With this draw, So remained half a point behind the leader.
Vachier-Lagrave finally got on the scoreboard after Svidler went all out sacrificing a piece, rejecting a draw by a perpetual then sacrificing another piece. He soon found himself down too much material and had to resign.
Text: WGM Tatev Abrahamyan
Photo: Official website