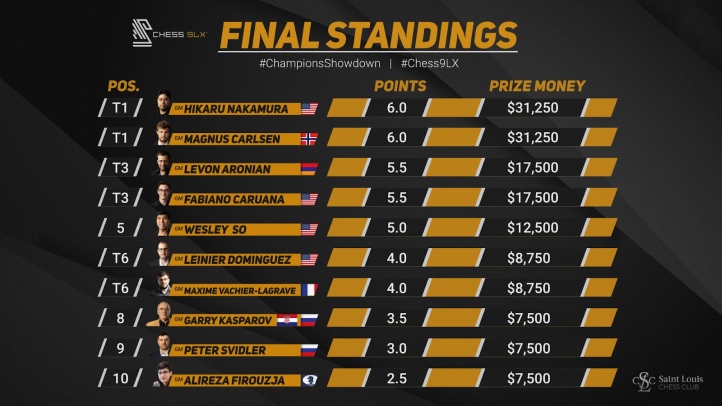 The big rivalry of the summer between World Champion Magnus Carlsen and U.S. Champion Hikaru Nakamura was reignited in the final day of Champions Showdown: Chess9LX. The duo famously played a marathon match in the Magnus Carlsen Invitational in August, which came down to the wire and was decided in an Armageddon game in favor of the World Champion. This time, there was no tiebreaker and the two giants were declared co-champions of the 2020 edition of Chess9LX, collecting $31,250 each for their efforts. World Number Two Fabiano Caruana and former World Rapid Champion Levon Aronian finished half a point behind the winners, tying for third place and collecting $17,500 each.
The next big event, the Saint Louis Rapid and Blitz, will kick off on Tuesday at 1 PM Central and can be viewed on Saint Louis Chess Club's Youtube and Twitch channels. The field will include top American Grandmasters Hikaru Nakamura, Wesley So, Leinier Dominguez, and Jeffery Xiong, as well as Grandmasters Magnus Carlsen, Levon Aronian, Ian Nepomniachtchi, Alexander Grischuk, Pentala Harikrishna and Alireza Firouzja.
Round 7
Levon Aronian entered the day as the sole leader of the tournament. His tough battle against Garry Kasparov resulted in a draw, which allowed him to stay on top of the leaderboard but left room for his rivals to join him.
In a tense battle between Magnus Carlsen and Peter Svidler, an unfortunate mouse slip on move 31 was the culprit that cost the 8-time Russian Champion the game. While the alternatives did not look too appealing either, the mouse slip ended the game immediately, allowing Carlsen to join Aronian on top.
The two Americans Hikaru Nakamura and Wesley So decided to take their chances against the rest of the field and drew their game quickly, thus remaining a striking distance behind the leaders.
Fabiano Caruana showed dominance in his game against the young Alireza Firouzja who kept struggling in the event, while Maxime Vachier-Lagrave continued his recovery from a disastrous start with a win over a former leader of the tournament Leinier Dominguez.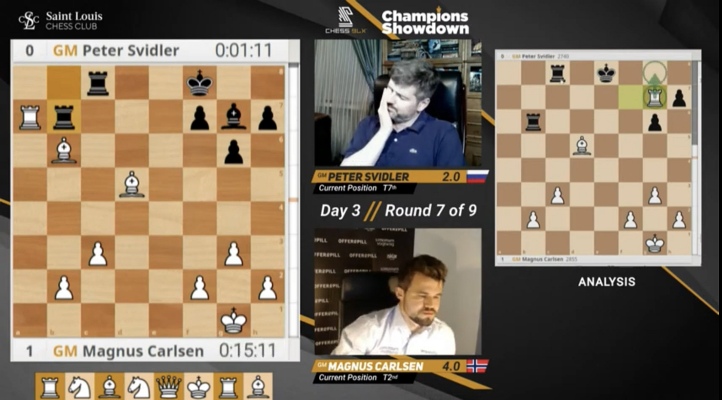 Round 8
While Vachier-Lagrave's third win in a row did not improve his position in the standings by much, it did, however, spoil Aronian's tournament. In a lopsided game, the Frenchman's piece activity was too much for his opponent. Aronian fell back in the standings to third place and was joined by Wesley So who drew his game against Kasparov.
Aronian's loss allowed both Carlsen and Nakamura to leapfrog him. Commentator Yasser Seirwan was not a fan of Carlsen's position, but the World Champion managed to masterfully hold a draw against Dominguez nonetheless. Nakamura managed to turn the tables around after Firouzja declined to capture a pawn, instead opting for an attack. This decision backfired, as it allowed Nakamura to regroup his pieces and strike back after his young opponent went astray with his queen.
The game between Svidler and Caruana was a quiet draw, which knocked the former U.S. Champion out of contention for first place.
Round 9
It all came down to the final round, with Carlsen and Nakamura half a point ahead of So and Aronian, leaving room for a possibility of a 3-way tie.
Even with the commentary on mute, fans could understand the tumultuous nature of his game against Peter Svidler based on Nakamura's reactions alone. The U.S. Champion plainly expresses his emotions during his games, in this case ranging from disbelief on move 2, as he thought he was winning, to complete disgust after he blundered. The struggling Svidler returned the favor, allowing Nakamura to escape unscathed with a draw.
Carlsen held the fate of the tournament in his hands and was close to clinching the title as he was pressing against Aronian. A split-second oversight let the position and the win slip away, as the game liquidated into a drawn endgame. While clearly disappointed with his result, Carlsen was relieved to find out that Nakamura had drawn his game.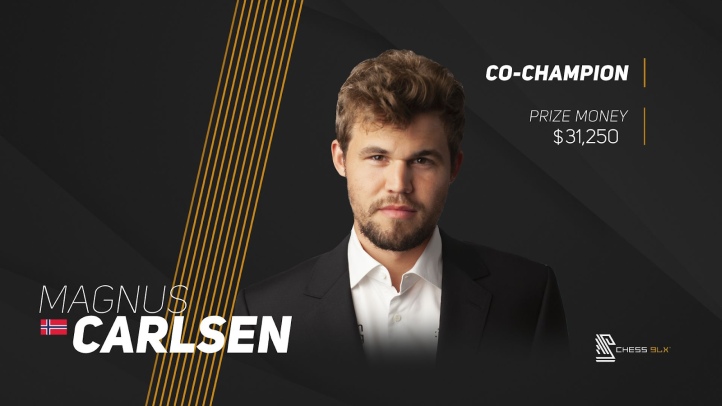 "I feel like I played a decent positional game up to a certain point, right towards the end which was an unfortunate oversight. I am very impressed by how Hikaru came back today, he keeps finding ways to beat his opponents in unique ways," said Magnus Carlsen. "I am optimistic about my play in the upcoming Saint Louis Rapid & Blitz which begins next week."
"I felt that I kept it together and ultimately was able to draw and tie for first with Magnus," Nakamura remarked in the post-tournament interview. "The two of us have played against each other regularly over the past few months in these major tournaments online which I believe speaks to the consistency of our chess play."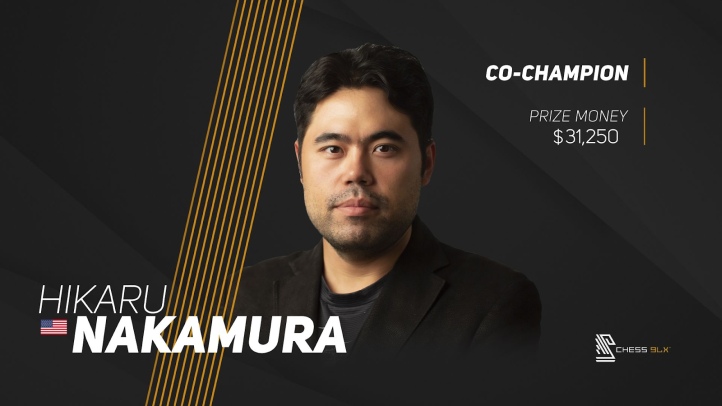 Firouzja played the spoiler of the round by defeating the Chess960 World Champion Wesley So. The teenager jokingly remarked that he had realized that winning any game today would not help his standings in the tournament by much, but would spoil any of his opponent's chances greatly. Even though he struggled in this tournament, Firouzja was still grateful for the opportunity to face the best of the chess world in a new format.
Caruana's win against Dominguez earned him a tie for third place. Caruana, who will play in November when the Candidates Tournament resumes, revealed that he is currently in Germany and won't be participating in the upcoming Rapid and Blitz tournament. He will compete in the Norway Chess tournament in-person and over the board this October.
It felt only appropriate that Garry Kasparov's marathon 123 move game was the finale of the tournament. The chess legend scored 3.5 points and finished in 8th place.
"The Champions Showdown: Chess 9LX is always such a treat for chess fans watching from around the globe," said Tony Rich, Executive Director of the Saint Louis Chess Club. "Historically this event has been played as a series of exhibition matches, so this year's tournament format added an extra level of excitement for viewers. To have legendary World Champion Garry Kasparov return to the board this year certainly made for an unforgettable three days."