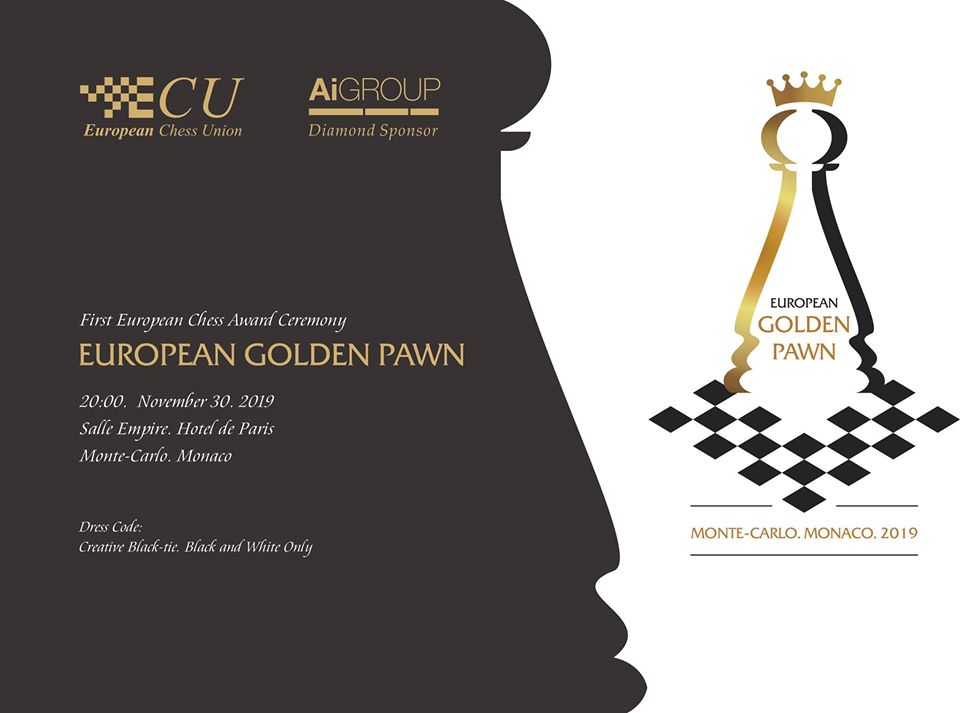 European Chess Union Board established the annual award ceremony – European Golden Pawn – that will be held every year on the last Saturday of November in Monaco (Monte-Carlo). The first year of the award ceremony will be dedicated to European legends and their achievements
The 1st European Golden Pawn Award Ceremony will take place on 30th November in a luxury Hotel de Paris in Monte Carlo and in a way will serve as a prelude to the second leg of FIDE Women's Grand Prix that starts in the Mediterranean principality just two days after the ceremony. The ceremony will be hosted by Jamaican-American chess Grandmaster Maurice Ashley and Georgian television presenter and singer Helen Kalandadze.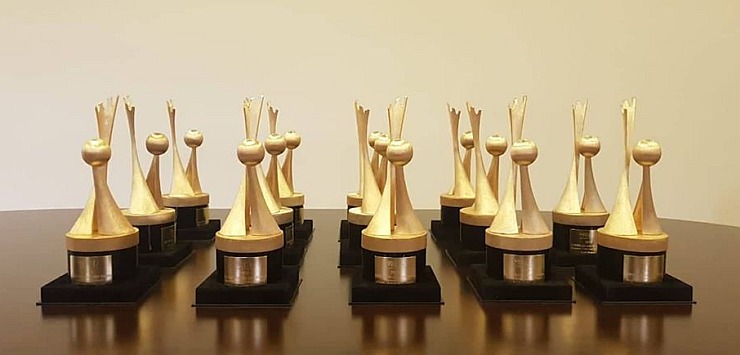 The award winners:
European Chess Legend (male): Garry Kasparov
European Chess Legend (female): Judit Polgar
Lifetime Achievement: Nona Gaprindashvili
The Youngest European World Chess Champion of all time: Maya Chiburdanidze
European Pioneer of Chess Development in Schools: Alexander Kostyev
Best European Arbiter: Geurt Gijssen
Best European Chess Project: Frederic Friedel
Best European Chess Organizer: Bessel Kok
Best European Chess Journalist: Leontxo Garcia
Best European Chess Magazine: "New In Chess"
Best European Movie: "The Chess Game" (1994, Director: Yves Hanchar, Starring: Denis Lavant, Pierre Richard, Catherine Deneuve)
Best European Book (Fiction): Ruben David Gonzalez Gallego ("Chess")
The ceremony will be attended by the official representative of His Serene Highness, Prince Albert II of Monaco, adviser of His Serene Highness, the President of the World Olympians Association, President and Founder of Peace and Sport, President of the French Federation of Modern Pentathlon and Vice-President of the Union Internationale de Pentathlon Moderne – Mr. Joel Bouzou; President of the European Chess Union Mr. Zurab Azmaiparashvili; Secretary General of the World Tourism Organization Mr. Zurab Pololikashvili; the State Representatives of Monaco; FIDE President Mr. Arkady Dvorkovich; the Chairman of the Board of Directors of the AiGroup Mr. Kakhaber Guledani and the representatives of the Georgian Industrial Holding AiGroup; officials of the ECU and FIDE Boards, Federations' Presidents & Representatives, business, sports and art personalities.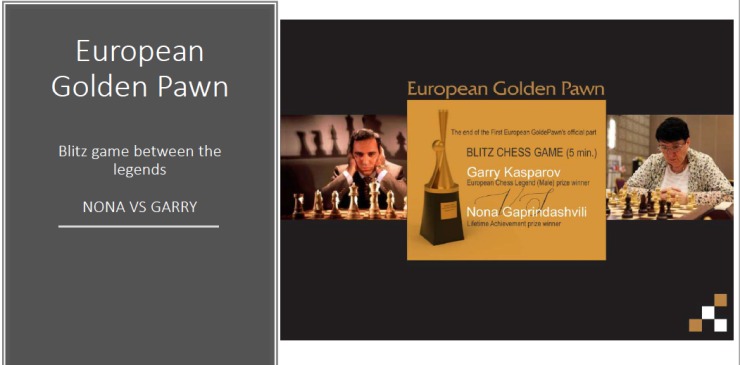 Besides the main Award Ceremony event and gala dinner, European Golden Pawn comprises also side events, such as a simultaneous chess exhibition by the legendary Garry Kasparov, with the participation of 15 kids and blitz game played between European Chess Legend prize Winner Garry Kasparov and Lifetime Achievement Winner Nona Gaprindashvili. Also, gala dinner and ceremony will be completed with music performances by Composer of the ECU anthem Nikoloz Rachveli; Carmen, Juga, Eliza Cipriani and Luca Condello and artists of NuArt.
More about the European Golden Pawn
The European Chess Union greatly desires for the award ceremony to be held in Monte-Carlo, in order to continue grand chess traditions and make this event a high scale and prestigious. In the very first year, the European Chess Union will give away its first special gift-medal and this prize will be awarded to His Serene Highness Albert II Prince of Monaco as chess is a royal game.
Event Director: Basa Potskhishvili
Art-director: Tamar Potskhishvili
Production: Studio 1,2,3
What: Chess Award Ceremony – European Golden Pawn
Where: Hotel de Paris. Monte-Carlo, Monaco
When: 30 November. 20.00 AM
Organizers: European Chess Union/Monaco Chess Federation
More about the Diamond Sponsor of the European Golden Pawn General Sponsor of the European Chess Union AiGroup
The Georgian Industrial holding Aigroup brings together Aicar, Aienergy, Aipower and Aiproduction. Aigroup focuses on environmentally friendly projects and gives them priority. The mission of the company is sustainable development of green economy in Georgia.
AiGroup - Tbilisi, 67 Tsknety Highway. Georgia / info@aigroup.ge / https://aigroup.ge/en