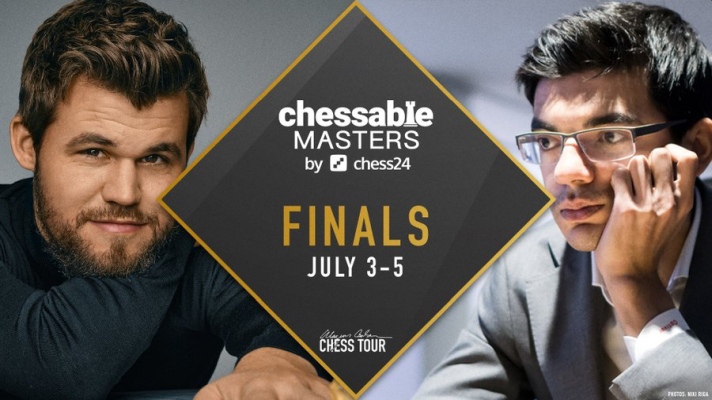 A huge online audience saw Magnus Carlsen take the lead against arch-rival Anish Giri in the $150,000 Chessable Masters final today. A peak of at least 50,000 on chess24.com channels alone tuned in to watch the Magnus Carlsen Chess Tour event as it was broadcast in 10 languages.
Carlsen said: "It was 3.5 games that were pretty solid and then... insanity ensued."
Carlsen started like a train and steamed into his in-form rival early in the first game of the four-game set. But Giri, who won the MrDodgy Invitational in the run-up to this event, managed to pull off a remarkable save.
The Dutchman, who upped the ante by tweeting about Carlsen in the break, could not escape in the second, however. The game had looked like it was heading for another draw but Carlsen left the commentators shocked with a sudden win in the endgame.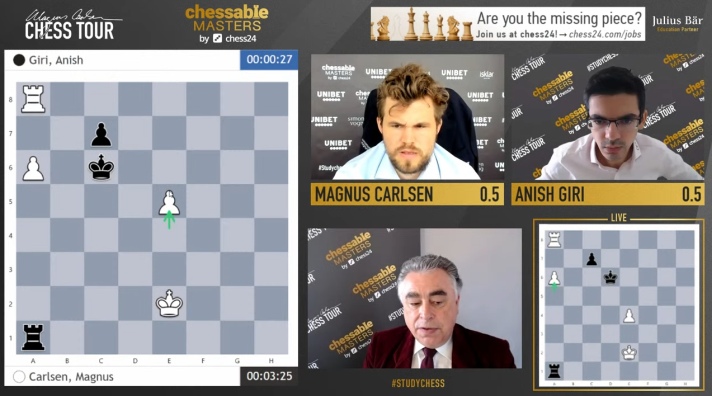 Having taken a 1.5-0.5 lead, Carlsen then did what he needed to do to steer the match to a safe conclusion with a solid draw. But in the final game, with Giri needing a win, the champion made a stunning mistake to allow Giri back in it. With the scores level at 2-2 and the set going to a two-game blitz chess tiebreak, the match had suddenly flared up.

Game 1 of the tiebreak was drawn but, with the tension mounting, Carlsen finally put the set to bed in a complicated sixth game of the day. It was a huge relief for the Norwegian who goes one set up in the best-of-three match and tomorrow has the chance to win outright. Giri, meanwhile, needs to win and win again on Sunday.
The winner picks up $45,000 and the runner-up $27,000. If Giri wins on Sunday, then an automatic place in the $300,000 4-player Magnus Carlsen Chess Tour Grand Final may well be worth more.

Day two of the final kicks off at 16.00 CEST tomorrow.
About the tournament
The event, broadcast live on chess24, is the next stage of the Magnus Carlsen Chess Tour which carries a total prize pot of $1 million, a record for the online game.
The Chessable Masters, which runs until July 5, is being put on in association with Chessable and the tour's Education Partner, leading Swiss private banking group, Julius Baer.
Players were split into two groups (A and B) of six for the preliminary stage before eight progressed to the knockouts.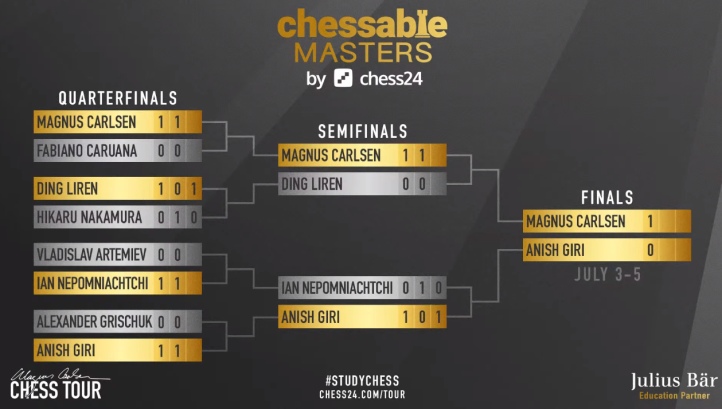 Coverage begins with commentary in 10 languages at 16.00 CEST.
You can watch it live here:
https://chess24.com/en/watch/live-tournaments/chessable-masters-2020-group-a#live
Highlights English:
https://drive.google.com/drive/folders/1dpG2c-dmqs58tSDSZvxzGNqzgquJyO0g?usp=sharing
FOR MORE INFORMATION:
Leon Watson
leon@chessable.com
+447786 078770