Dear member federations,

We would like to remind you that the 1st Online Workshop "Equal Opportunities" will be held 16-19 of May, 2021.
Below you can find an updated programme for the workshop, which now includes the confirmed names of the 4 keynote speakers and 3 special guests that will make a brief presentation together with the lecturers: Arthur Kogan, Arkady Dvorkovich, Zurab Azmaiparashvili, Dana Reizniece-Ozola, Sonja Johnson, Elias Mastoras, Dr Marape Marape, Victor Bologan, Sorin Lapadatou, David Cordover, and Jirina Prokopova.
The purpose of this workshop is to introduce and explore important information about chess players with disabilities. We will demystify the concept of disability in chess and offer basic skills for interacting with and accommodating people with disabilities acting as Organizer, Trainer and Arbiter.
The following are the goals of the workshop:
Increase participant awareness of disability issues and disability culture.
Educate Chess Arbiters, Trainers & Organizers providing special certificates of specialization.
Inform about European programs and activities that National Chess Federations as also the rest of chess organizations can create or take part in.
The workshop is organized by the FIDE Commission for the Disabled (DIS) together with the European Chess Union (ECU), and is supported by the FIDE development fund.
Schedule: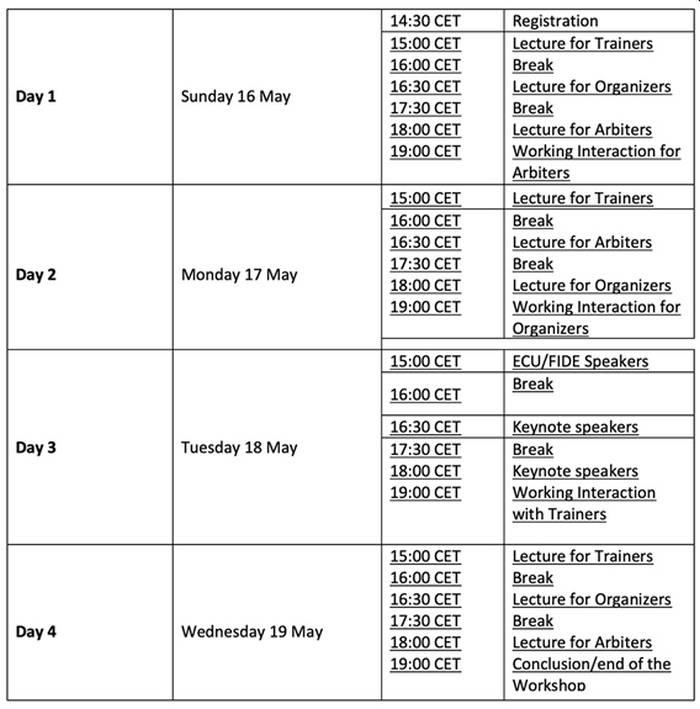 List of lecturers:
Trainers: Thomas Luther, GM and FIDE Senior Trainer
Organizers: Theodoros Tsorbatzoglou, FM and International Organizer
Arbiters: Carolina Muñoz Solis, WIM and International Arbiter
Registration form:

Information:
secretariat@europechess.org
(Ms Ismini Tzegka)